It is so great to know we have such a competent and caring company in our neighborhood. E. Brandenburg
5% off on replacement OR
10% off drain cleaning OR
15% off repair
On your first service experience with us. Not to be combined with any other discount/offers. Does not apply to evaluation. May only be used once per individual customer.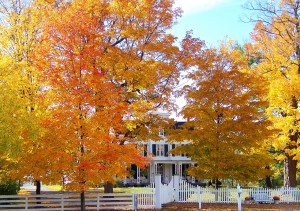 Fall is officially here!
While we're hoping for mild weather for the next couple of months, it won't be long until temperatures in the Middletown area will start to drop. It's a good idea to go through a plumbing checklist before cold weather hits to prevent any disasters in your home.
Get a tune-up on your water heater
The last thing you want on a chilly morning is a cold shower, so hire a plumber to ensure your water heater will keep working in the months ahead. In a water heater tuneup, we'll:
Test the water temperature and pressure.
Test the power supply.
Test the emergency gas shutoff valve and the safety relief valve.
Check for proper ventilation to prevent any carbon monoxide leaking into your home.
Clean the burner assembly and intake filters.
Check for leaks and corrosion.
Check for sediment buildup at the bottom of your tank, and drain it if needed.
Have your sewer inspected/septic tank pumped
Throughout the spring and summer, plant and tree roots may have grown into your sewer lines causing cracks. If water gets into those cracks and freezes, it could cause big problems. We can inspect the sewer lines and clean them out if necessary, and fix any cracked pipes. If you have a septic tank, now is a great time to have it pumped.
Insulate pipes
Pipes that are in your unheated garage, a cold basement or close to outdoor walls can easily freeze. Wrap them with insulation material or heat tape. This is an easy task that can prevent a major disaster.
Know how to shut off the water
If your frozen pipes burst, your water bill could skyrocket….up to 10 extra gallons of water per minute.  Teach everyone in the house how to turn the water off so they can take charge before too much water gushes out.
We're looking forward to a beautiful season. If you need any help with your plumbing, give us a call.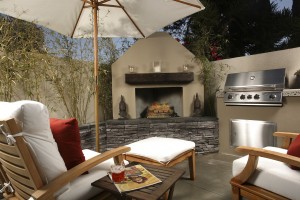 Mmmm Mmmm!!
Memorial Day weekend marks the beginning of barbecue season. If you cook your meals outside often, you know what a pain it can be to walk in and out of the house to run water when needed.
One option is to add an outdoor kitchen to your patio.
Outdoor kitchens bring the conveniences of indoor cooking out into the open air. But whether you want to build a basic cooking station consisting of a small grill and sink, or an elaborate bar with a built in TV and cabinets, there's one important thing you will need to consider when planning your kitchen: Plumbing.
Running Water Lines
Running water lines from the house to an outdoor sink often requires digging new trenches, so it's a good idea to position your outdoor cooking area as close to the house as possible to keep these new lines fairly short. You can run hot and cold water lines, or another possibility is to install an under-the-counter water heater so you don't have to use hot water from the house. It's also convenient to have an extra dishwasher outside if you don't want to haul dishes in and out of the house, so you'll want to have a plumber hook this up to avoid a leaky disaster.
Hooking Up the Sink to Sewer Line
Just as it's important to get fresh water into your outdoor faucet, it's also vital that your sink drains into a sewer line. You'll need a plumber to be sure the waste water is routed to the city's sewer system.
Protection from the Elements
You'll be able to find faucets, sinks, and countertops that are fairly weather resistant, but when it comes to plumbing, winterizing your kitchen is absolutely necessary.
Before winter, you'll have to shut off the water supply and drain lines to prevent pipes from freezing and bursting. You'll also want to insulate the pipes to keep them from freezing, and purchase a good cover to protect the area from rain, snow and debris until the spring.
We at Putman Plumbing would be happy to consult with you about installing an outdoor kitchen in your Frederick County home. Just give us a call.
We salute our fallen heroes this Memorial Day. Have a safe and happy weekend!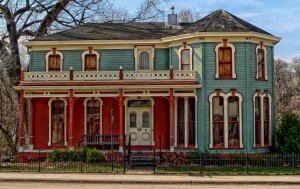 If you're getting a decent amount on your tax return, it's tempting to spend it on fun stuff. But instead of planning a cruise or a trip to the Poconos, why not invest in something that will improve your home's value and make it function better for years to come?
Particularly if your home is older than 50 years, it could have galvanized pipes that have corroded and clogged up. How can you tell? If your water pressure is low, your drains run slowly and you're experiencing leaks coming from faucets, your plumbing may need an update. You could also have mold in the walls created by water leaking from corroded pipes, which can be dangerous for the whole family.
Not only will having your plumbing updated make your home safer and stop some of the annoying leaks, but it will also make it worth more if you plan to sell it in the future. Galvanized piping can decrease the value of your home since there's a higher chance of water damage, and some cities actually require that plumbing be updated before selling an older home.
If old pipes are not your concern, consider upgrading your home's water heater to a tankless model. Tankless heaters only heat the water as needed, saving money on your energy bills, and they also outlast a traditional storage water heater by up to ten years.
Spending your money on plumbing improvements won't get you a great tan, but you'll be happy down the line when your home is worth more and your saving on monthly bills.
If you live in Frederick County, give Putman Plumbing a call to ask how we can help.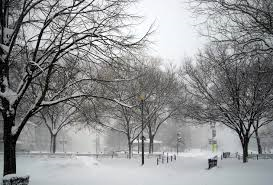 While we're all hoping this winter isn't as severe as the last one, there's a good possibility we'll see ice, snow, and subzero temps in the near future. This would be a great week, while the weather is fairly quiet, to go out and stock up on winter storm supplies.
Prepare for Power Outages
When we're expecting half an inch of ice or more to settle on power lines, we can expect to lose power. Here are a few things to have that don't require electricity:
Food that doesn't need to be heated or refrigerated, like soups, cereal, fruit, and energy bars
A manual can opener
Firewood if you have a wood-burning fireplace
Flashlights and batteries
Battery-powered radio
Battery-powered clock
A charged, portable cell phone charger
First-aid supplies
Blankets and plenty of cold-weather clothing for each family member
Pet food and additional water for household pets
Expect Freezing Pipes
We've talked about how to prevent frozen pipes by wrapping them with insulation, leaving cabinet doors open, leaving faucets dripping, and a few other things, but it's always best to be prepared in case those measures don't work.
Since a busted pipe can lead to contaminated drinking water, stock one gallon of clean water per person per day to last you several days. And if you are expecting severe weather and frigid temperatures, fill the bathtub with water ahead of time so you have plenty of water available.
Remember to never use an open flame to thaw a pipe. Instead, heat up the water on hand and wrap the pipe with hot rags, or put a space heater or blow dryer near the pipe to warm the air around it.
Plan a Safe Exit
Keep shovels and plenty of rock salt around so you can clear and thaw driveways and sidewalks.
We at Putman Plumbing are always here to help. Give us a call if you have any concerns.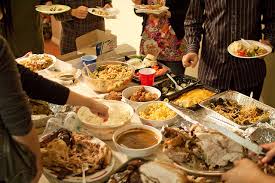 We're  thankful for our customers, and always love to take on calls when our services are needed. But we'd also like for you to make the most of your time with family this Thanksgiving – and that means not having to call us in the middle of dinner to clear a pipe.
The best way to avoid sewer backups and overflows is to not pour fats, oils, and grease down the drain.  Have you seen images that show how fatty foods can clog human arteries? Well, the pipes under your sink can be affected the same way.  Grease clings to the inside of the pipe, eventually building up and causing a complete blockage. When that happens, your sewer system can get backed up and cause all kinds of problems.
Here are a few examples of things to avoid putting down the sink or garbage disposal:
Fats such as butter and shortening. At room temperature these things can cling to and block pipes.
Cooking oil. If you're frying a turkey, place the leftover oil into a can and throw it in the trash, since oil can coat pipes and create a slick surface that other fats and grease will stick to.
Grease such as cooked fat from ham, gravy, and mayonnaise. Grease is deceptive because it's  a liquid after cooking, but cools into a solid. Pouring it down the drain means that when it cools on the pipes in the collection system, it will harden and then start a clog.
Meat trimmings and uncooked poultry skin. These should never be put into the garbage disposal because they don't break up or dissolve.
Before washing or placing dishes into the dishwasher, scrape and wipe pots, pans, and plates with paper towels and toss materials into the trash.
We hope you enjoy your time with family this Thanksgiving. If you do find yourself with a plumbing problem, give us a call.
The 2015 Farmers' Almanac will be released this week, and its prediction for Maryland is almost identical to last year's: a crisp, cold, stormy winter. Since the Almanac was spot-on in 2014, it's best to start taking measures now to prevent plumbing problems before the first cold snap hits.
Look for Leaky Faucets
If you notice any faucets dripping, no matter how slowly, they need to be fixed before temperature drops. Water that drips will freeze and block pipes, causing major problems in your home.
Identify Slow Moving Drains
A drain that moves slowly or clogs easily could mean you have a problem with an underground pipe. And whether that pipe is blocked by tree roots, is broken, or corroding, it's best to detect and fix the problem now before snow piles up and makes digging impossible. A licensed plumber can offer a non-invasive camera inspection that allows them to see any problems in your pipes, and once they see what's going on, they'll offer a quick method to resolve the issue.
Don't catch yourself with a geyser in your bathroom in the middle of winter. Call Putman Plumbing now so you can rest easy when the cold weather begins.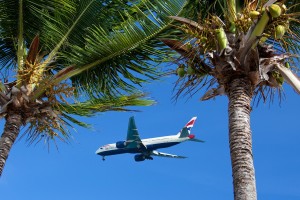 There's a lot to think about when you're taking your family on a vacation. But aside from packing everyone's clothes and stopping mail delivery, you should also think about what could happen with your plumbing while you're gone. You can save money and avoid a few hassles by taking a few simple steps.
Turn Down Your Water Heater
You can save money on your electric bill by turning your water heater down or off so you're not expending unnecessary energy. For a gas unit, turn it off or to "vacation" mode, and for electric, turn it off at the breaker or to the lowest setting.
And while you're at it, don't forget to turn your pool heater down or off to save even more money.
Prevent a Sewer Line Backup
Since we've been getting more rain this spring and summer, there's a possibility that your sewer lines could get backed up if they have any cracks in them. Tree root growth is also an issue since the roots are drawn to sewer lines. If you've noticed any slow moving drains or backed up toilets, have a plumber inspect your pipes before you leave. It could take just one strong storm to cause a major flood in your home.
Check Your Sump Pump
If your sump pump stops working when you're gone, you'll come home to a wet, stinky basement. Pour a bucket of water into the pump well to be sure that it turns on.
If you notice any problems that need to be fixed before you go, give us a call. We'll have your mind at ease in no time.
Here we go again!
There's nothing we can do to prevent the foot of snow we're expected to get in Middletown tonight, and chances are if you have a problem, it might take us a while to get to you.
Here are a few precautions you can take to avoid plumbing problems the storm might cause.
Protect Your Well Pump
If you're on a private well and the power goes out, turn the breaker off to the pump. This will protect the pump when the power comes back on.
Keep Your Toilets Flushing
While your water is flowing well, fill up the bathtub in each bathroom. If your pipes end up freezing, you can use this water to fill the toilet tank so you can continue to flush. Simply fill the tank up to the fill tube/flush valve. You don't need to turn the supply to the tank off.
Prevent Your Pipes From Freezing
Leave your sink cabinet doors open so the pipes have access to warmer air. Even if you lose heat, this will allow trapped cold air in the cabinets to escape, making it harder for the pipes to freeze.
Also leave your faucets on at a tiny trickle, especially if they're located close to an exterior wall.
Save Your Bib Lines
If you haven't already and can get to them, wrap your hose bib lines with insulation. Drafts into spaces where piping exists is the number one cause of frozen and burst hose bib lines. If you don't have insulating material, you can use cloth or newspaper, then cover them with plastic bags.
Other than that, sit tight and stay safe and warm.
In some areas last week, the temperatures dropped below zero, and you probably heard about people having problems with their pipes bursting. Even though we're in average temperatures this week, frigid weather will return before we know it. Let's be sure you know what to do to keep this messy problem from happening in your home.
What happens when water freezes in pipes? Water expands when it's frozen. This expansion causes pressure on the surrounding pipe, causing the pipe to crack or break. Pipes that run along or are close to the outside of the house, such as those under kitchen cabinets, above crawlspaces, or in basements and attics, are vulnerable to freezing.
How can you prevent pipes from freezing?
When you're expecting below freezing temperatures, wrap exposed pipes in towels or insulating material
Open bathroom and kitchen cabinet doors to allow warmer air to circulate around the plumbing.
When the temperature outside is very cold, let the water drip from the faucet served by exposed pipes.
Set your thermometer to the same temperature both during the day and at night. During extremely cold days, you may incur a higher heating bill, but you'll prevent a much more costly repair job needed if pipes burst.
If you'll be leaving your house for a few days, never turn your heat off, and set the temperature no lower than 55°.
How will you know if your pipes are frozen?
If you turn your faucet on and nothing or just a trickle of water comes out, the pipes could be frozen.
How can you thaw frozen pipes? Never use an open flame to thaw pipes. This can be dangerous and cause plastic pipes to melt, causing more harm than good. Instead:
If you have access to running water, run hot water on rags and rub the rags along the frozen pipes.
Put a space heater in the room with the frozen pipes, or turn up your home's thermostat.
What if a pipe breaks?
Close the main shut-off valve to stop flooding. The valve is usually in the basement, garage, or outside by the foundation, often near a faucet. If you can't locate a shut-off valve, call you utility company. Then, call a licensed plumber right away to help you!