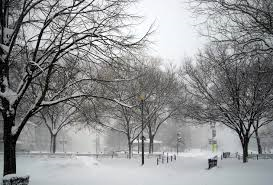 While we're all hoping this winter isn't as severe as the last one, there's a good possibility we'll see ice, snow, and subzero temps in the near future. This would be a great week, while the weather is fairly quiet, to go out and stock up on winter storm supplies.
Prepare for Power Outages
When we're expecting half an inch of ice or more to settle on power lines, we can expect to lose power. Here are a few things to have that don't require electricity:
Food that doesn't need to be heated or refrigerated, like soups, cereal, fruit, and energy bars
A manual can opener
Firewood if you have a wood-burning fireplace
Flashlights and batteries
Battery-powered radio
Battery-powered clock
A charged, portable cell phone charger
First-aid supplies
Blankets and plenty of cold-weather clothing for each family member
Pet food and additional water for household pets
Expect Freezing Pipes
We've talked about how to prevent frozen pipes by wrapping them with insulation, leaving cabinet doors open, leaving faucets dripping, and a few other things, but it's always best to be prepared in case those measures don't work.
Since a busted pipe can lead to contaminated drinking water, stock one gallon of clean water per person per day to last you several days. And if you are expecting severe weather and frigid temperatures, fill the bathtub with water ahead of time so you have plenty of water available.
Remember to never use an open flame to thaw a pipe. Instead, heat up the water on hand and wrap the pipe with hot rags, or put a space heater or blow dryer near the pipe to warm the air around it.
Plan a Safe Exit
Keep shovels and plenty of rock salt around so you can clear and thaw driveways and sidewalks.
We at Putman Plumbing are always here to help. Give us a call if you have any concerns.