Join the company voted BEST PLUMBER by the Frederick News Post's Best of the Best.
NEW OPPORTUNITY! TECHNICIAN NEEDED!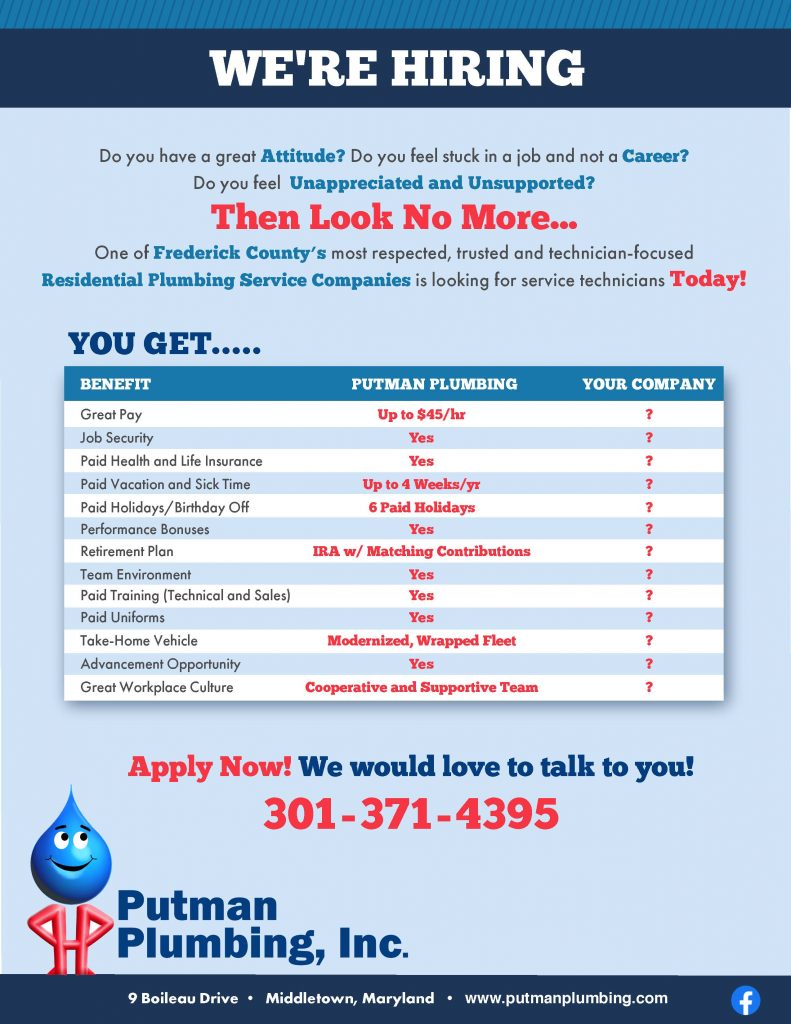 What are your Top Reasons for Looking for a new opportunity?
✓  You're tired of where you're working?
✓  Maybe you don't feel like you're getting paid what you deserve?
✓  Maybe you don't like your boss and don't feel like he/she supports you?
✓  Maybe you just don't like your company-and you know there's something better?
Three Reasons You'll Love Working with Us:
1. Our employees must win!
We realize that the only way to have happy customers is to have a happy team of people serving them! We do everything imaginable to support our people, lift them up to make them better, and ensure that they're successful. And for doing a great job, they receive tremendous financial rewards-as well as incredible career satisfaction. This is a workplace you'll enjoy being a part of.
2. Our customers must win!
We do everything imaginable to ensure that our customers are 100% satisfied and absolutely love our services. If they don't, we do whatever is necessary to make them wildly happy they did business with us-so much so that they insist on telling their friends and family!
3. Our company must win!
We believe if we've done absolutely everything possible to make sure our customers win and our employees win, we will naturally win. And we must win-and be financially successful-to help more customers and provide more opportunity for our employees and their families.
We're Hiring!
If you're looking for more than just a job, but to also be part of a successful and growing company, then look no further. We are currently seeking:
Residential Service Technician with at least 4 years of experience who is journey licensed or ready to take the journey exam
Apprentice technicians with at least 2 years of experience
The Ideal Candidates?
Someone who is driven to succeed in their field.
Hungry, Humble, Smart.
Who cares about our clients and the families of the community we serve.
Takes pride in the work they do.
Well-versed in residential services.
Able to adapt quickly in a fast-paced environment.
What we Provide
Weekly training is provided to enhance and better your skills with great financial rewards for a job well done. We offer benefits such as paid health and life insurance, bonuses, paid vacation and sick time as well as retirement and much more!
Who We Are
We are a fast-growing and top-rated home services plumbing company in the Frederick area that offers our team members outstanding potential for advancement. To apply, complete the form below.