It takes years to become a Master Plumber and carry a license in the state of Maryland. All of our technicians have been professionally trained and have passed drug tests and background checks to earn the Technician Seal of Safety and the Preferred Plumber seal. You can be sure that when we arrive at your home, your family will be safe and your belongings secure in our presence.
As experienced, licensed plumbers, it's our job to ensure clean, healthy water, fixtures that work correctly, and that waste doesn't back up into your home. Often when people try to cut corners and cost by doing the work themselves or hiring inexperienced plumbers, they end up with major problems such as improperly fitted faucets that cause water damage to the home.
We guarantee that you can trust our experts to use the best products and procedures in the industry to get your home's plumbing working its best as quickly and affordably as possible.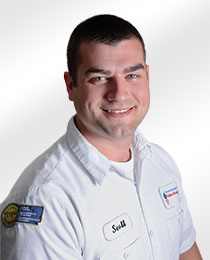 Scott has been a technician with Putman Plumbing for the past seven years, but has been with the company for most of his life.  He says "when you're the son of the owner, it comes with the territory."  Scott is a licensed Journeyman Plumber and is in the process of obtaining his Masters License. Having been in the trade since a young boy, Scott has experienced many different situations and takes pride in correcting the problem the right way the first time, a trait his father instilled in him. When he is not plumbing he enjoys spending time with his family and wife of one year, and playing a round or two of golf with friends and family although he does confess he is a much better plumber than a golfer.  Scott also played football for Middletown and helped coach the Varsity MVAA team recently, watching as those same young men went on to the State Championship.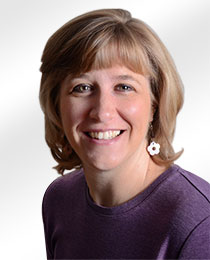 Bronwyn practically grew up with Putman Plumbing.  At 16 she became responsible for the bookkeeping aspects of the company.  After high school and during her time at Frederick Community College, she worked for Barbara Keeney LLC, a local accounting firm while continuing in her spare time with Putman Plumbing. After attending the University of Maryland, Bronwyn began working full time at Putman in 2001. Her duties, ranging from bookkeeping to technology, have made her somewhat of a memory bank of client information. Bronwyn has been married 13 years, and has two children. She is involved with her children's PTA as well as being a busy sports Mom.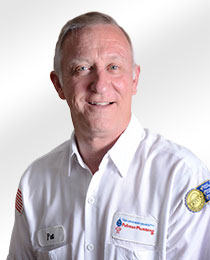 Pat has been in the plumbing trade since 1979, starting as an apprentice with a local plumbing company after having worked on the family farm for 28 years. After working and testing his way through the ranks to Master Plumber, he started Putman Plumbing in 1988, using his expertise in both the commercial and residential fields. He is knowledgeable in all aspects of the trade.  Pat likes to meet new people and educate his clients about plumbing so they can solve their challenges together. Pat is a member, and current Recording Secretary of the Frederick County Master Plumber's Association. He has been married 41 years, has three children, and four grandchildren.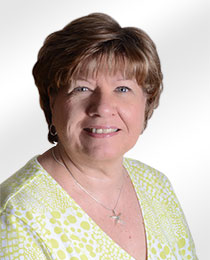 Marlena began with Putman Plumbing when Patrick opened the doors in 1988 and continued until 1993. After a stint working with the children throughout the County in the FCPS system, she returned to the office in 2001 as Call Taker and Dispatcher, meeting the needs of a growing office. Marlena is also in charge of marketing and client awareness.  She is always looking for ways to enhance the client's first impressions of Putman while building strong customer relationships. In her spare time she enjoys gardening, reading, and encouraging others to be the person they were designed to become.  Marlena also teaches at the Frederick County Adult Detention Center.