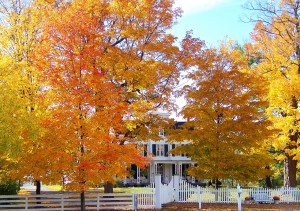 Fall is officially here!
While we're hoping for mild weather for the next couple of months, it won't be long until temperatures in the Middletown area will start to drop. It's a good idea to go through a plumbing checklist before cold weather hits to prevent any disasters in your home.
Get a tune-up on your water heater
The last thing you want on a chilly morning is a cold shower, so hire a plumber to ensure your water heater will keep working in the months ahead. In a water heater tuneup, we'll:
Test the water temperature and pressure.
Test the power supply.
Test the emergency gas shutoff valve and the safety relief valve.
Check for proper ventilation to prevent any carbon monoxide leaking into your home.
Clean the burner assembly and intake filters.
Check for leaks and corrosion.
Check for sediment buildup at the bottom of your tank, and drain it if needed.
Have your sewer inspected/septic tank pumped
Throughout the spring and summer, plant and tree roots may have grown into your sewer lines causing cracks. If water gets into those cracks and freezes, it could cause big problems. We can inspect the sewer lines and clean them out if necessary, and fix any cracked pipes. If you have a septic tank, now is a great time to have it pumped.
Insulate pipes
Pipes that are in your unheated garage, a cold basement or close to outdoor walls can easily freeze. Wrap them with insulation material or heat tape. This is an easy task that can prevent a major disaster.
Know how to shut off the water
If your frozen pipes burst, your water bill could skyrocket….up to 10 extra gallons of water per minute.  Teach everyone in the house how to turn the water off so they can take charge before too much water gushes out.
We're looking forward to a beautiful season. If you need any help with your plumbing, give us a call.