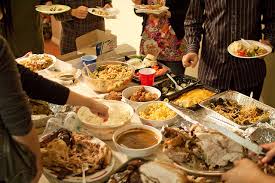 We're  thankful for our customers, and always love to take on calls when our services are needed. But we'd also like for you to make the most of your time with family this Thanksgiving – and that means not having to call us in the middle of dinner to clear a pipe.
The best way to avoid sewer backups and overflows is to not pour fats, oils, and grease down the drain.  Have you seen images that show how fatty foods can clog human arteries? Well, the pipes under your sink can be affected the same way.  Grease clings to the inside of the pipe, eventually building up and causing a complete blockage. When that happens, your sewer system can get backed up and cause all kinds of problems.
Here are a few examples of things to avoid putting down the sink or garbage disposal:
Fats such as butter and shortening. At room temperature these things can cling to and block pipes.
Cooking oil. If you're frying a turkey, place the leftover oil into a can and throw it in the trash, since oil can coat pipes and create a slick surface that other fats and grease will stick to.
Grease such as cooked fat from ham, gravy, and mayonnaise. Grease is deceptive because it's  a liquid after cooking, but cools into a solid. Pouring it down the drain means that when it cools on the pipes in the collection system, it will harden and then start a clog.
Meat trimmings and uncooked poultry skin. These should never be put into the garbage disposal because they don't break up or dissolve.
Before washing or placing dishes into the dishwasher, scrape and wipe pots, pans, and plates with paper towels and toss materials into the trash.
We hope you enjoy your time with family this Thanksgiving. If you do find yourself with a plumbing problem, give us a call.