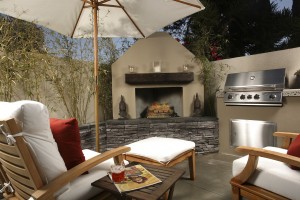 Mmmm Mmmm!!
Memorial Day weekend marks the beginning of barbecue season. If you cook your meals outside often, you know what a pain it can be to walk in and out of the house to run water when needed.
One option is to add an outdoor kitchen to your patio.
Outdoor kitchens bring the conveniences of indoor cooking out into the open air. But whether you want to build a basic cooking station consisting of a small grill and sink, or an elaborate bar with a built in TV and cabinets, there's one important thing you will need to consider when planning your kitchen: Plumbing.
Running Water Lines
Running water lines from the house to an outdoor sink often requires digging new trenches, so it's a good idea to position your outdoor cooking area as close to the house as possible to keep these new lines fairly short. You can run hot and cold water lines, or another possibility is to install an under-the-counter water heater so you don't have to use hot water from the house. It's also convenient to have an extra dishwasher outside if you don't want to haul dishes in and out of the house, so you'll want to have a plumber hook this up to avoid a leaky disaster.
Hooking Up the Sink to Sewer Line
Just as it's important to get fresh water into your outdoor faucet, it's also vital that your sink drains into a sewer line. You'll need a plumber to be sure the waste water is routed to the city's sewer system.
Protection from the Elements
You'll be able to find faucets, sinks, and countertops that are fairly weather resistant, but when it comes to plumbing, winterizing your kitchen is absolutely necessary.
Before winter, you'll have to shut off the water supply and drain lines to prevent pipes from freezing and bursting. You'll also want to insulate the pipes to keep them from freezing, and purchase a good cover to protect the area from rain, snow and debris until the spring.
We at Putman Plumbing would be happy to consult with you about installing an outdoor kitchen in your Frederick County home. Just give us a call.
We salute our fallen heroes this Memorial Day. Have a safe and happy weekend!