The fact that you stand behind work for five years and I can call and count on you coming in a reasonable as possible time depending on the problem. I know that there may be cases when you are considered more expensive, but with the guarantee given with the service I don't feel the cost is unwarranted. Phyl T.
5% off on replacement OR
10% off drain cleaning OR
15% off repair
On your first service experience with us. Not to be combined with any other discount/offers. Does not apply to evaluation. May only be used once per individual customer.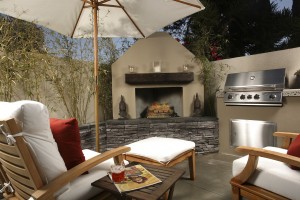 Mmmm Mmmm!!
Memorial Day weekend marks the beginning of barbecue season. If you cook your meals outside often, you know what a pain it can be to walk in and out of the house to run water when needed.
One option is to add an outdoor kitchen to your patio.
Outdoor kitchens bring the conveniences of indoor cooking out into the open air. But whether you want to build a basic cooking station consisting of a small grill and sink, or an elaborate bar with a built in TV and cabinets, there's one important thing you will need to consider when planning your kitchen: Plumbing.
Running Water Lines
Running water lines from the house to an outdoor sink often requires digging new trenches, so it's a good idea to position your outdoor cooking area as close to the house as possible to keep these new lines fairly short. You can run hot and cold water lines, or another possibility is to install an under-the-counter water heater so you don't have to use hot water from the house. It's also convenient to have an extra dishwasher outside if you don't want to haul dishes in and out of the house, so you'll want to have a plumber hook this up to avoid a leaky disaster.
Hooking Up the Sink to Sewer Line
Just as it's important to get fresh water into your outdoor faucet, it's also vital that your sink drains into a sewer line. You'll need a plumber to be sure the waste water is routed to the city's sewer system.
Protection from the Elements
You'll be able to find faucets, sinks, and countertops that are fairly weather resistant, but when it comes to plumbing, winterizing your kitchen is absolutely necessary.
Before winter, you'll have to shut off the water supply and drain lines to prevent pipes from freezing and bursting. You'll also want to insulate the pipes to keep them from freezing, and purchase a good cover to protect the area from rain, snow and debris until the spring.
We at Putman Plumbing would be happy to consult with you about installing an outdoor kitchen in your Frederick County home. Just give us a call.
We salute our fallen heroes this Memorial Day. Have a safe and happy weekend!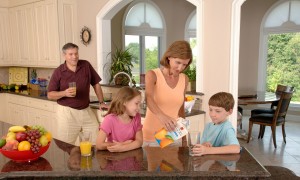 Moms dedicate their lives to keeping everyone else happy. So if you're looking for the perfect gift for your wife or mom this Mother's Day, consider a few things that will make her happy and comfortable all year long — she deserves it!
Add Comfort In the Bathroom
If your mother is older, replacing her toilet with a comfort height toilet could make her time in the bathroom a lot easier. These taller toilets provide two extra inches so mom doesn't have to sit so low. Installing a grab bar on the wall near the toilet can help too.
Does your wife love massages? It may be hard for her to make time to go get a massage often, but she'd probably love a new shower head with a built in massager.  You could also splurge on her and have a jetted tub installed.
Add Convenience In the Kitchen
We all know how busy life is with kids, so cooking quick, easy meals is a necessity. An instant hot water heater eliminates the need to boil water, so pasta or hard boiled eggs can be ready in minutes. And a new faucet with a sprayer can make rinsing dishes so much easier.
If she's constantly filling up a filtered water pitcher, think about installing a filtered water dispenser near your faucet. Endless drinkable water is something everyone will enjoy.
Has your mom never had the luxury of having a dishwasher or garbage disposal?  Now may be a great time to spoil her. Both can be installed quickly with the help of a plumber.
Help Out All Day Long
Have everyone pitch in to help mom on Mother's Day. Clean up breakfast. Do the dishes. Fold laundry.  Give her a break, and let her know how much she's appreciated every day of the year.
Putman Plumbing wishes all the moms in Frederick County a Happy Mother's Day!
Since the majority of homeowners are right-handed, most contractors don't think about how inconvenient traditional kitchens are for lefties. So if you're left-handed and are  building a home or renovating your kitchen, make sure to voice a few preferences that will make your kitchen more functional for you.
 Sink
When washing dishes, a lefty usually sets the dirty dishes in the right side of the sink and puts the clean dishes to the left. Make sure there's enough room on both sides, but you may want to make the counter space on the left side a little bigger.
 Faucet
If your faucet has a side-mount lever, have it placed on the left, if available. You can also ask for a soap dispenser to be placed to the left of the faucet.
Dishwasher
It's probably easier for you to rinse or empty a cup in the sink and put it in the dishwasher if it's on the left of the sink instead of to the right.
Cabinets
Have your pot and pan cabinets placed to the left of your stove. You'll also be reaching for potholders in a drawer on the left side of the oven.
We can talk to you about options in left-handed faucets, and can install that dishwasher for you. Give us a call at Putman Plumbing. We're happy to help!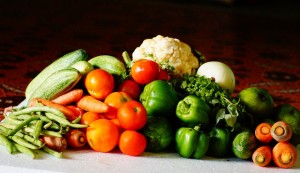 Spring is a great time to enjoy delicious fresh veggies. Asparagus and artichokes are ready now, and carrots, peas, and onions will be popping up soon.
When you're preparing these foods in your kitchen, try to keep in mind what your garbage disposal can handle. It's best to remember that a disposal shouldn't be used as a waste can, but rather as a place to rinse small pieces of food that get stuck on dishes. If you're not sure whether something is safe to put in a disposal, you should probably put it in the trash.
Avoid Stringy Vegetable Waste
The strings of artichokes, onions, asparagus, celery, lettuce, corn husks, onion skins, and potato peels can wrap around the blades, preventing the motor from working properly. If these things do end up in the disposal, run the cold water while it's operating to flush them through.
Skip Hard Seeds and Peels
Fruit pits can jam, dull, and even break a unit's blades. And while some people like to put orange and lemon peels into the disposal to freshen it, putting chunks that are too large (i.e. half an orange) can make the motor work too hard. If it's causing the sink to shake while it's running, then it's also causing stress on pipes and seals.
Don't Dump Oils and Egg Shells
While you're cooking, make sure to drain grease or oils into containers, and then put them in the trash. If you pour them into the disposal, they'll cause clots in pipes. And if you're using eggs in your recipes, throw the shells away. Egg shells have a stringy membrane layer that can wrap around the shredder ring, and the shells themselves will become ground into a sand-like material that can clog pipes.
Enjoy fresh foods this spring and summer, and give us a call if you have any concerns!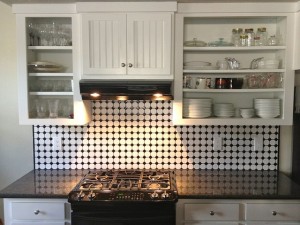 Are you thinking about using your tax refund to renovate your kitchen? That's exciting!
Whether you plan on simply buying new appliances or overhauling your countertops and faucets, you're making an investment to improve the most used room in your home, as well as increasing your property value. To make sure it's done right, you should hire an expert to take care of the plumbing work.
Here are just a few reasons why:
Electricity and water don't mix. Combining these elements while installing a new appliance could cause a major disaster. Plumbers install dishwashers, refrigerators, and garbage disposals all the time and know how to do it safely.
Plumbers know pipes. Do you know how hard you can crank on PVC before it cracks? If you don't, your beautiful new kitchen might end up in a pool of water down the road.
Your kitchen needs to be back up and running quickly. With every hour you take to look up DIY videos or read how-to books, your family will have to spend more time out of the kitchen. Costs of having to eat away from home can really add up. Plumbers get in and out quickly and do it right the first time.
Technology is always changing. Plumbers keep up with the newest options available in water filtration systems and fixtures. They also know all about how to lower water bills. Just talk to them before you start your renovation.
Putman Plumbing has helped to keep many kitchens in the Middletown area looking beautiful and functioning smoothly. Let us know if we can help with your project!