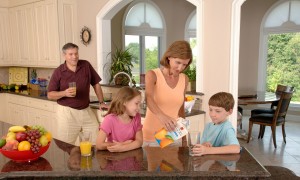 Moms dedicate their lives to keeping everyone else happy. So if you're looking for the perfect gift for your wife or mom this Mother's Day, consider a few things that will make her happy and comfortable all year long — she deserves it!
Add Comfort In the Bathroom
If your mother is older, replacing her toilet with a comfort height toilet could make her time in the bathroom a lot easier. These taller toilets provide two extra inches so mom doesn't have to sit so low. Installing a grab bar on the wall near the toilet can help too.
Does your wife love massages? It may be hard for her to make time to go get a massage often, but she'd probably love a new shower head with a built in massager.  You could also splurge on her and have a jetted tub installed.
Add Convenience In the Kitchen
We all know how busy life is with kids, so cooking quick, easy meals is a necessity. An instant hot water heater eliminates the need to boil water, so pasta or hard boiled eggs can be ready in minutes. And a new faucet with a sprayer can make rinsing dishes so much easier.
If she's constantly filling up a filtered water pitcher, think about installing a filtered water dispenser near your faucet. Endless drinkable water is something everyone will enjoy.
Has your mom never had the luxury of having a dishwasher or garbage disposal?  Now may be a great time to spoil her. Both can be installed quickly with the help of a plumber.
Help Out All Day Long
Have everyone pitch in to help mom on Mother's Day. Clean up breakfast. Do the dishes. Fold laundry.  Give her a break, and let her know how much she's appreciated every day of the year.
Putman Plumbing wishes all the moms in Frederick County a Happy Mother's Day!