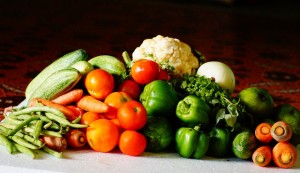 Spring is a great time to enjoy delicious fresh veggies. Asparagus and artichokes are ready now, and carrots, peas, and onions will be popping up soon.
When you're preparing these foods in your kitchen, try to keep in mind what your garbage disposal can handle. It's best to remember that a disposal shouldn't be used as a waste can, but rather as a place to rinse small pieces of food that get stuck on dishes. If you're not sure whether something is safe to put in a disposal, you should probably put it in the trash.
Avoid Stringy Vegetable Waste
The strings of artichokes, onions, asparagus, celery, lettuce, corn husks, onion skins, and potato peels can wrap around the blades, preventing the motor from working properly. If these things do end up in the disposal, run the cold water while it's operating to flush them through.
Skip Hard Seeds and Peels
Fruit pits can jam, dull, and even break a unit's blades. And while some people like to put orange and lemon peels into the disposal to freshen it, putting chunks that are too large (i.e. half an orange) can make the motor work too hard. If it's causing the sink to shake while it's running, then it's also causing stress on pipes and seals.
Don't Dump Oils and Egg Shells
While you're cooking, make sure to drain grease or oils into containers, and then put them in the trash. If you pour them into the disposal, they'll cause clots in pipes. And if you're using eggs in your recipes, throw the shells away. Egg shells have a stringy membrane layer that can wrap around the shredder ring, and the shells themselves will become ground into a sand-like material that can clog pipes.
Enjoy fresh foods this spring and summer, and give us a call if you have any concerns!