Your technician whistled as he came up the walk and also while he worked! He must be happy to work for Putman Plumbing. E. Guenthener
5% off on replacement OR
10% off drain cleaning OR
15% off repair
On your first service experience with us. Not to be combined with any other discount/offers. Does not apply to evaluation. May only be used once per individual customer.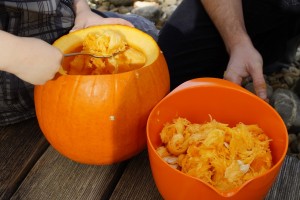 Halloween is this Wednesday, and hopefully you've already enjoyed some of the fun and scary things going on around Frederick County. If you haven't had your fill of Halloween fun, don't worry. There are still some events in the area going on this week and next weekend.
Gaver Farm Field Trip on October 31. Meet up with other homeschooling families at this Mt. Airy Farm, where kids can wear their costumes, pick pumpkins, take a hayride, run through a corn maze and play on playgrounds!
Screamland Farms  on November 2 and 3. This haunted attraction in Frederick will still be open next weekend, so check it out to experience the Hayride of Horrors and zombie paintball!
SuperHero Fall Kidfest in Leesburg on November 3rd offers a chance for your little ones to wear their costumes again and eat some yummy BBQ.
Carving Pumpkins This Week? Read This First!
If your family plans to carve pumpkins this week or you'll be making pumpkin pie in the near future, it's important that you dispose of scraps properly. No parts of a pumpkin should ever go in the drain or garbage disposal! Stringy guts can clog drains and wrap around the blade causing it to stop, while pumpkin rinds and seeds are too hard for the blade to cut through, so they can damage the disposal.
Avoid a clogged sink and broken garbage disposal by scooping guts and seeds into a bowl or newspaper, then throwing the scraps into the trash can or a compost pile.
Happy Halloween from All of Us at Putman Plumbing!
We hope you have a safe and fun Halloween. Plumbing problems can be scary, so if you need any plumbing help from a trusted plumber in Middletown this week or any time, give us a call!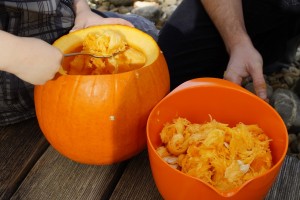 Halloween is an exciting time for Frederick County families, but there's something that scares us even more than witches and ghouls: Pumpkins in your pipes.
When you're ready to carve jack-o-lanterns, don't put the pulp and seeds down your kitchen sink drain or even into your garbage disposal. The slimy, stringy pulp can harden and cause clogged drains, and it can also get wrapped around your garbage disposal blade. And no seeds should ever go into your disposal — they're just too solid to be ground up.
What should you do with pumpkin waste?
Before you start carving, grab a bowl and lay out a newspaper under your pumpkin. Scoop the pulp and seeds into the bowl and catch the extra stuff on the newspaper. When you're finished, throw all the pulp into the trash can or into your compost pile. For a special treat, rinse the seeds and lay them on a cookie sheet, sprinkle them with salt and bake at 325 for about 25 minutes.
Have a Happy Halloween!
We hope you have a safe Halloween and enjoy lots of tasty treats. If you find yourself in a sticky situation that involves your plumbing, a brave plumber from Putman Plumbing will be there to save you. Just give us a call.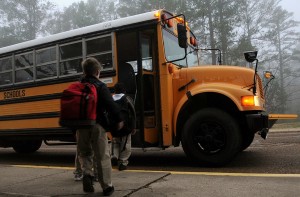 With the kids back in school and pools getting ready to close, summer is officially coming to an end. Before we move on to pumpkins and mums, take a look at a few ways you can ensure problem-free plumbing throughout the fall.
Inspect outside taps and hoses
It's still warm in Middletown and the surrounding area, so you may still be watering your lawn. While your hose is out, check to see if it has any cracks or holes allowing water to leak out. Also make sure your spigot turns all the way off without dripping to make sure you aren't wasting water all fall. This will also help to prevent freezing water in pipes when the temperature drops.
Get your sewer lines checked
We had a lot of rain this summer, which roots and trees loved. That could lead to big problems underground if those roots grew into your drain pipes. Particularly if you have noticed the water in your home draining more slowly, it's important to have your sewer lines inspected and cleared before colder weather hits.
Check appliances
Washing baseball uniforms and beach towels all summer put a lot of stress on your washing machine, so check that no cracks or leaks are coming from your attachments. Also make sure that nothing is blocking your drain.
Inspect your garbage disposal
We've enjoyed many fresh vegetables and barbecues throughout the summer, so your garbage disposal has been working overtime – probably even chopping things up it's not supposed to handle. Run water through your disposal and check under the sink to make sure you don't see anything dripping. Something might have come loose during a battle with a watermelon rind.
If you find leaks and drips that you can't fix, call us at Putman Plumbing. We'd love to help.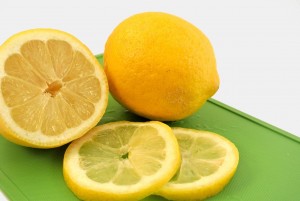 It's hard to comprehend that things you've been told for years about home maintenance could be wrong. But when it comes to the plumbing system in your Frederick County home, it's best to believe the experts in order to prevent damage.
Here are a few assumptions our Putman Plumbing customers have had that simply aren't true.
Myth: Running Water Helps Waste Travel Smoothly Through the Garbage Disposal
Truth: The most important thing about this is that some things don't ever belong in a garbage disposal, whether you run water or not. Hard, course waste such as eggshells and celery can cause damage to your disposal so they should always go in the trash. If you do want to put thicker foods down the disposal, you should break them up and mix them with water beforehand so they aren't so hard.
Myth: Lemons Clean Your Garbage Disposal
Truth: Lemon rinds can make your disposal smell great, but they don't really clean it, and can actually clog it. A better choice is to mix a cleaning solution of mild soap and warm water into a spray bottle, spray it into the disposal, then after a few minutes scrub the disposal with a cleaning brush. Just make sure you disconnect the disposal before you start to clean.
Myth: It's Best to Clean All Plumbing Fixtures With Hand Soap
Truth: Hand soap can be damaging to some surfaces, and are not effective enough to disinfect others. Brass should be cleaned with gentle solutions, like lemons and baking soda, and toilet bowls need disinfectant to kill germs.
Myth: Putting a Brick in the Toilet Tank Saves Water
Truth: If you displace too much water, your toilet bowl won't fill up enough to carry waste away, so you'll actually have to flush twice as often. And since bricks deteriorate, components in the tank such as the flapper can break. So the brick doesn't end up saving you money at all — it just leads to higher water bills and broken pieces that need to be replaced.
Don't believe everything you hear. Instead, give us a call and ask us before you end up with a big problem!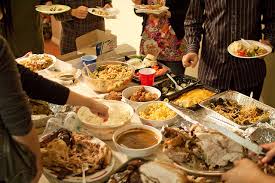 We're  thankful for our customers, and always love to take on calls when our services are needed. But we'd also like for you to make the most of your time with family this Thanksgiving – and that means not having to call us in the middle of dinner to clear a pipe.
The best way to avoid sewer backups and overflows is to not pour fats, oils, and grease down the drain.  Have you seen images that show how fatty foods can clog human arteries? Well, the pipes under your sink can be affected the same way.  Grease clings to the inside of the pipe, eventually building up and causing a complete blockage. When that happens, your sewer system can get backed up and cause all kinds of problems.
Here are a few examples of things to avoid putting down the sink or garbage disposal:
Fats such as butter and shortening. At room temperature these things can cling to and block pipes.
Cooking oil. If you're frying a turkey, place the leftover oil into a can and throw it in the trash, since oil can coat pipes and create a slick surface that other fats and grease will stick to.
Grease such as cooked fat from ham, gravy, and mayonnaise. Grease is deceptive because it's  a liquid after cooking, but cools into a solid. Pouring it down the drain means that when it cools on the pipes in the collection system, it will harden and then start a clog.
Meat trimmings and uncooked poultry skin. These should never be put into the garbage disposal because they don't break up or dissolve.
Before washing or placing dishes into the dishwasher, scrape and wipe pots, pans, and plates with paper towels and toss materials into the trash.
We hope you enjoy your time with family this Thanksgiving. If you do find yourself with a plumbing problem, give us a call.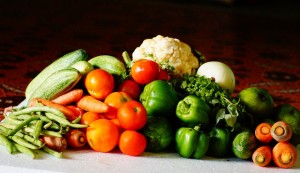 Spring is a great time to enjoy delicious fresh veggies. Asparagus and artichokes are ready now, and carrots, peas, and onions will be popping up soon.
When you're preparing these foods in your kitchen, try to keep in mind what your garbage disposal can handle. It's best to remember that a disposal shouldn't be used as a waste can, but rather as a place to rinse small pieces of food that get stuck on dishes. If you're not sure whether something is safe to put in a disposal, you should probably put it in the trash.
Avoid Stringy Vegetable Waste
The strings of artichokes, onions, asparagus, celery, lettuce, corn husks, onion skins, and potato peels can wrap around the blades, preventing the motor from working properly. If these things do end up in the disposal, run the cold water while it's operating to flush them through.
Skip Hard Seeds and Peels
Fruit pits can jam, dull, and even break a unit's blades. And while some people like to put orange and lemon peels into the disposal to freshen it, putting chunks that are too large (i.e. half an orange) can make the motor work too hard. If it's causing the sink to shake while it's running, then it's also causing stress on pipes and seals.
Don't Dump Oils and Egg Shells
While you're cooking, make sure to drain grease or oils into containers, and then put them in the trash. If you pour them into the disposal, they'll cause clots in pipes. And if you're using eggs in your recipes, throw the shells away. Egg shells have a stringy membrane layer that can wrap around the shredder ring, and the shells themselves will become ground into a sand-like material that can clog pipes.
Enjoy fresh foods this spring and summer, and give us a call if you have any concerns!