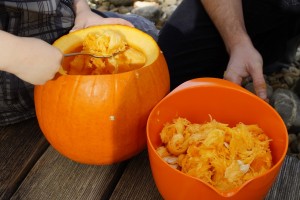 Halloween is an exciting time for Frederick County families, but there's something that scares us even more than witches and ghouls: Pumpkins in your pipes.
When you're ready to carve jack-o-lanterns, don't put the pulp and seeds down your kitchen sink drain or even into your garbage disposal. The slimy, stringy pulp can harden and cause clogged drains, and it can also get wrapped around your garbage disposal blade. And no seeds should ever go into your disposal — they're just too solid to be ground up.
What should you do with pumpkin waste?
Before you start carving, grab a bowl and lay out a newspaper under your pumpkin. Scoop the pulp and seeds into the bowl and catch the extra stuff on the newspaper. When you're finished, throw all the pulp into the trash can or into your compost pile. For a special treat, rinse the seeds and lay them on a cookie sheet, sprinkle them with salt and bake at 325 for about 25 minutes.
Have a Happy Halloween!
We hope you have a safe Halloween and enjoy lots of tasty treats. If you find yourself in a sticky situation that involves your plumbing, a brave plumber from Putman Plumbing will be there to save you. Just give us a call.