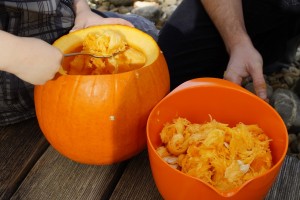 Halloween is this Wednesday, and hopefully you've already enjoyed some of the fun and scary things going on around Frederick County. If you haven't had your fill of Halloween fun, don't worry. There are still some events in the area going on this week and next weekend.
Gaver Farm Field Trip on October 31. Meet up with other homeschooling families at this Mt. Airy Farm, where kids can wear their costumes, pick pumpkins, take a hayride, run through a corn maze and play on playgrounds!
Screamland Farms  on November 2 and 3. This haunted attraction in Frederick will still be open next weekend, so check it out to experience the Hayride of Horrors and zombie paintball!
SuperHero Fall Kidfest in Leesburg on November 3rd offers a chance for your little ones to wear their costumes again and eat some yummy BBQ.
Carving Pumpkins This Week? Read This First!
If your family plans to carve pumpkins this week or you'll be making pumpkin pie in the near future, it's important that you dispose of scraps properly. No parts of a pumpkin should ever go in the drain or garbage disposal! Stringy guts can clog drains and wrap around the blade causing it to stop, while pumpkin rinds and seeds are too hard for the blade to cut through, so they can damage the disposal.
Avoid a clogged sink and broken garbage disposal by scooping guts and seeds into a bowl or newspaper, then throwing the scraps into the trash can or a compost pile.
Happy Halloween from All of Us at Putman Plumbing!
We hope you have a safe and fun Halloween. Plumbing problems can be scary, so if you need any plumbing help from a trusted plumber in Middletown this week or any time, give us a call!