Friendly, knowledgeable service people. They do their best to take care of problems. Veronica Roberts
5% off first time plumbing replacement
10% off first time drain cleaning
15% off first time plumbing repair
Not to be combined with other discount offers. Does not apply to evaluation. May only be used once per individual customer.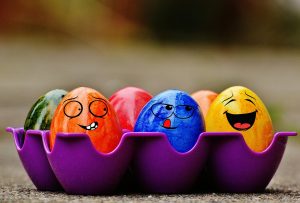 It looks like we'll have beautiful weather for Easter this year in Frederick County. We hope you enjoy time with family while celebrating Jesus' resurrection!
If you want to prevent having to call a plumber while hosting guests this year, make sure you know what should and shouldn't go down the sink and garbage disposal. As a preventative, pour a cup of baking soda followed by a cup of white vinegar into each drain to make a foam formula that will eat away at any buildup inside your drains.
Egg Shells
Membranes inside of egg shells can form a web that captures other foods and liquids that go into your drain pipe. This can cause clogs, not to mention that the membrane lining can also wrap around the garbage disposal's shredder and cause it to malfunction.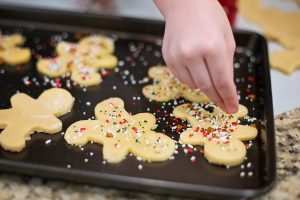 You may think cookies, candy, gifts and decorations are the most important parts of hosting a successful holiday party, but there's something your guests will remember even more if it goes wrong — your plumbing! To avoid a disaster from happening while having a festive time with friends and family, follow these tips!
Point Guests to Multiple Bathrooms
You don't want guests to have to wait in line to use the toilet, so let them know which bathrooms are available for use. It might mean cleaning the kids' toilets before your party, but it will also prevent clogs that could happen from too many people using your hall bathroom.
Keep a Trash Can Near the Toilet
Hopefully most guests know what can be flushed and what can't, but providing a trash can will be a good reminder. If you're not sure about the toilet knowledge of some of your guests, place a sign that lists things NOT to flush like feminine products, baby wipes, and paper towels.
Provide a Plunger in Plain Sight
You don't want guests to be embarrassed if they happen to cause an overflow. Keeping a plunger next to the toilet will ensure that guests can catch a clog before it floods the bathroom.
Keep an Eye on the Garbage Disposal
Hopefully you know by now not to put grease, oil, or hard items like bones in your garbage disposal. You never know if guests will try to grind the wrong foods, so it's best to show them to the trash can when they're finished eating.
If You Have a Plumbing Problem in Your Middletown Home, Call Putman!
We hope your party goes great and all your guests have a wonderful time. Just in case you have a clogged toilet, a broken garbage disposal, or any other plumbing issue, our licensed plumbers are only a phone call away. Happy Holidays!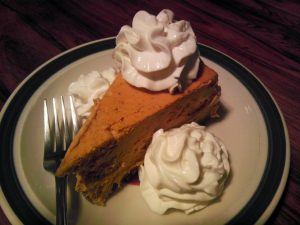 We're thankful for all our friends, family and customers who keep Putman Plumbing in business year after year. We wish you and yours a happy Thanksgiving filled with delicious food, warm memories and lots of laughs.
To avoid plumbing problems while you have a house full of guests, follow these tips!
Don't pour grease down the drain. It can harden and will eventually clog pipes. Always pour grease and oil in a can and then throw it away after it hardens.
Don't put bread and rice in the drain, since they'll expand and cause clogs.
Don't put turkey bones, pumpkin rinds, or onion peels in the garbage disposal since they can dull the blades and even stop your garbage disposal from working.
Make Sure to Support Small Business Saturday!
Please support your local Middletown and Frederick County businesses this Saturday. They are the ones who keep our wonderful little community thriving!
Happy Thanksgiving from all of us at Putman Plumbing! If you have any plumbing problems, give us a call.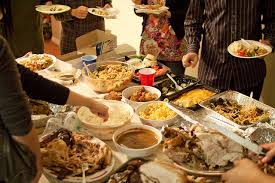 If you have family and friends coming to stay in your Frederick County home this month, the last thing you'll want to deal with is a messy plumbing problem while they're there. Take some steps now to ensure your guests have a comfortable Thanksgiving visit.
Here are a few things you might want to have a plumber check before guests arrive.
Do You Have Enough Hot Water?
If your water turn cold when the third person in your family takes a shower, imagine what will happen when four extra people are there.  You may have sediment sitting in the bottom of your hot water heater that prevents the water from heating as it should, so it's a good idea to have a Middletown plumber drain it before guess arrive. If your hot water heater is 10 years or older, you may consider having a new one installed before the holidays. If you have guests stay with you frequently throughout the year, think about getting a bigger hot water heater.
Are the Toilets Flushing Well?
Do you have to flush twice sometimes to get everything down? There may be a clog somewhere in your plumbing pipes, which will become backed up even more with multiple guests using the toilet — and even lead to a messy overflow. Have a plumber check for clogs or broken parts, and then encourage your family not to use flushable wipes.  They could be the reason your pipes are getting clogged.
Is the Faucet Dripping?
A slow drip can already cause your water bill to add up, so when you add hand-washing, showering, and  flushing when guests are there, your bill will go through the roof. Have a plumber fix the leak now so you can keep extra money in the bank for holiday gift giving.
Is Water Taking Forever to Drain in the Kitchen Sink?
When you're cooking for a crowd and rinsing dishes, you won't want a clogged kitchen drain. Liquids should flow straight through when you pour them down the drain, so if it's taking a few minutes or even seconds to disappear, call a plumber to clear the clog.
Is the Garbage Disposal Working?
If you smell something rotten in the garbage disposal or don't hear the blades turning when you turn it on, make sure to call a Frederick County plumber. You'll need to use a working garbage disposal for Thanksgiving and the rest of the weekend!
Putman Plumbing is Your Trusted Plumbing Company for Holiday Plumbing Problems
We want every Frederick County resident to enjoy this season with family and friends. If you have a plumbing problem, give us a call and we'll take care of it right away!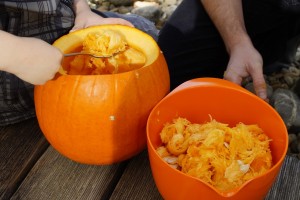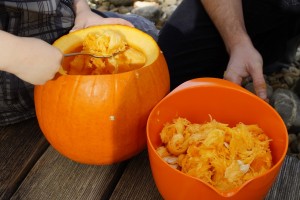 Halloween is this Wednesday, and hopefully you've already enjoyed some of the fun and scary things going on around Frederick County. If you haven't had your fill of Halloween fun, don't worry. There are still some events in the area going on this week and next weekend.
Gaver Farm Field Trip on October 31. Meet up with other homeschooling families at this Mt. Airy Farm, where kids can wear their costumes, pick pumpkins, take a hayride, run through a corn maze and play on playgrounds!
Screamland Farms  on November 2 and 3. This haunted attraction in Frederick will still be open next weekend, so check it out to experience the Hayride of Horrors and zombie paintball!
SuperHero Fall Kidfest in Leesburg on November 3rd offers a chance for your little ones to wear their costumes again and eat some yummy BBQ.
Carving Pumpkins This Week? Read This First!
If your family plans to carve pumpkins this week or you'll be making pumpkin pie in the near future, it's important that you dispose of scraps properly. No parts of a pumpkin should ever go in the drain or garbage disposal! Stringy guts can clog drains and wrap around the blade causing it to stop, while pumpkin rinds and seeds are too hard for the blade to cut through, so they can damage the disposal.
Avoid a clogged sink and broken garbage disposal by scooping guts and seeds into a bowl or newspaper, then throwing the scraps into the trash can or a compost pile.
Happy Halloween from All of Us at Putman Plumbing!
We hope you have a safe and fun Halloween. Plumbing problems can be scary, so if you need any plumbing help from a trusted plumber in Middletown this week or any time, give us a call!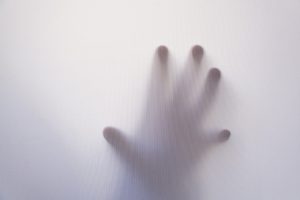 Spooky Halloween fun in Frederick County is fun, but scary plumbing problems are not! If you notice any of these issues now or any time in the future, be sure to give Putman Plumbing a call.
You Hear Water in Pipes But No One's Using the Water
No, there's not a ghost in your shower. What this could actually mean is that you have a plumbing leak somewhere. If you're only hearing water constantly running in the toilet, you may simply need to repair a damaged flapper, but if you hear it somewhere else in the house, call your Middletown plumber.
You Hear a Squeal or Scream When You Turn the Water On
A super scary sound might be terrifying, but there are no demons in your pipes. Pipes may squeal when water from a large pipe flows into a smaller pipe, so your plumber will either need to adjust the pressure valve or replace a worn washer or valve.
You Notice a Loud Bang When You Turn the Water Off
This is called water hammer, and it happens when water pressure changes and loose pipes bang into walls. This could lead to broken pipes or appliances, so it's important that a licensed Frederick County plumber fix it.
There's a Gurgling Monster in the Toilet
This really could be a scary problem, but not one that involves a scary creature. You could have backed up sewer lines or lines that have cracks, and when air gets through they gurgle. Make sure to call Putman Plumbing right away to clear up this problem.
You Smell Something Horrifying
If you've lost your appetite for Reese's peanut butter pumpkins because you can't get past the rotten egg odor in your home, it's time to call us. There could be a broken vent or sewer pipe under your house, and besides the terrible smell it causes, it could also wreak havoc on your foundation.
Have a Fun Halloween Season in Frederick County
We hope you enjoy some spooky good times in Middletown and surrounding cities. If you need any help with plumbing problems, give us a call.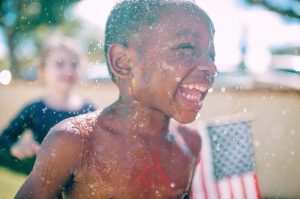 Now that Frederick County schools are out, the kids are playing in sprinklers, eating more food at home and creating a lot more laundry for mom and dad. These are all par for the course for summer, but they're also things that can cause potential plumbing problems. Find out how to prevent some of the plumbing problems that can happen when the kids are home, and if you can't prevent them, call us!
High Water Bills
Filling up pools and washing the car with the hose are all classic summer activities. But if you don't keep an eye on how long the outside water has been on, it can really drive up your water bill. Remind the kids not to splash too much water out of the pool, and set a timer when they're playing in the sprinkler. If your teenagers are washing their cars with the hose, teach them to turn the water off while they're soaping up the car.
Sink Clogs and Garbage Disposal Problems
Your kitchen sink will take a beating with more cereal being poured down the drain and scraps being grinded in the garbage disposal. Remind your kids not to pour food down the drain since it can cause clogs, and that they shouldn't put hard things like apple cores, orange peels, or chicken bones down the garbage disposal. In fact to play it safe and avoid plumbing problems while young kids are home, you might want to tell them to put all food scraps in the trash.
Non-Flushable Items in the Toilet
Clogged toilets are a big concern in summer just because everyone is flushing the toilet all day. It's important for kids to know how much toilet paper is appropriate to use, so tell them they only need 6 squares or whatever you decide is appropriate. And while flushable wipes are very popular these days, they don't dissolve in water like regular toilet paper so make sure to tell everyone not to flush more than one at a time since they can clog the toilet. It's also a good idea to remind girls not to flush any feminine products.
Washing Machine Problems
With all the baseball games and time spent at the beach or in the sandbox, a lot of dirt and sand will be going through the washing machine this summer. To avoid the washing machine from breaking or leaking, rinse as much debris as possible out first, and also check pockets for gum, candy, and other sticky stuff. This is not a good time of year to have to run to the laundromat!
Call Putman Plumbing if You Have Any Summer Plumbing Problems!
Enjoy your extra time with the kids this summer, and if you do have any problems, let us know!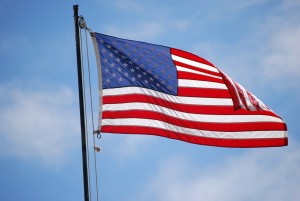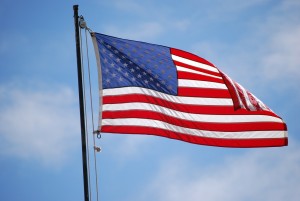 Memorial Day weekend marks the first weekend of summer. As we enjoy barbecues and fun parties, let's not forget the real reason we're celebrating: to honor the brave men and women who traded their lives for our freedom. We will be forever grateful for their sacrifice.
If you're planning to host guests in your home this weekend, plumbing problems are likely to happen. With more people using the garbage disposal, sinks and toilets, it's just par for the course. But there are some things you can do and encourage guests to do during their stay to avoid some plumbing issues from happening.
Don't put hard things or stringy scraps in the garbage disposal. Bones and rinds are too hard for the blades and can break the disposal, and strings from celery and other vegetables can wrap around blades and slow the disposal down. If your disposal does overheat and get jammed, look on the disposal under the sink and find the red "reset" button. Hopefully it will start working. If not, call Putman Plumbing!
Don't pour grease, fats, and oil into the kitchen sink. These things may go down in liquid form but they will harden and eventually clog pipes.
Don't put flushable wipes in toilets. One here or there might be fine, but too many of these can ball up and clog your pipes and even municipal sewer pipes. It's best to keep them out of the bathroom when guests are there.
Encourage guests to space their showers out. Since your water heater doesn't have the capacity to heat 7 or 8 showers in a a row, this will allow your own family and your guests to avoid the shock of freezing cold water.
Have a Safe and Fun Memorial Day from Putman Plumbing!
If you need any plumbing help for your Frederick County home after the weekend, be sure to give us a call.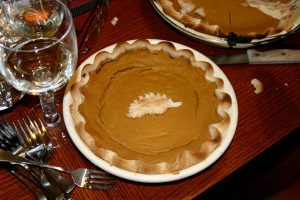 Putman Plumbing is thankful for another year in business, and that's all because of our faithful customers like you! We're also thankful to have modern plumbing in our country including comfortable toilets, private warm showers, and clean drinking water. These are luxuries that not everyone has, so we should all be thankful for them. (To get a better understanding of how fortunate we are to have the bathrooms we do, check out this article published last week on World Toilet Day).
We wish you and your family a happy Thanksgiving filled with great food and warm memories. Here are just a few reminders to avoid plumbing problems this weekend so you don't end up with a big mess with a house full of guests:
Don't pour oils or cooking grease down the drain because they can harden and clog pipes. Instead, pour them into a can and after it hardens, throw it away. Use a paper towel to wipe any grease left out of pans and dishes before you wash them.
Scrape rice, bread, other foods that swell up into the trash can. If you pour them in the drain, they'll expand and cause clogs.
Don't put turkey bones and skins, peelings from onions or celery, or anything else hard like pumpkin rinds into the garbage disposal as they could dull the blades and even break it.
Support Small Business Saturday
If you plan to do some holiday shopping this weekend, please support your local Middletown and Frederick County businesses!
Happy Thanksgiving from all of us at Putman Plumbing! If you have any plumbing problems, give us a call.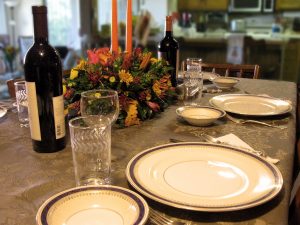 If you're hosting a big dinner for Thanksgiving, you probably already have a lot on your plate (see what we did there?). But besides grocery shopping and planning where out of town guests will sleep, you should also make sure no big problems will come up with a house full of people. If you notice any of these problems, have a licensed plumber in Middletown check them out well before your guests arrive.
Stopped Up Toilets
If you're already having to flush twice to get everything down your toilet, imagine how much flushing that will be all day long on Thanksgiving day – and it could possibly overflow. There's a reason why your toilet is stopped up. Flushable wipes could be balled up in your pipes (they aren't really that flushable, after all).  And if any parts in your tank are broken, there may not be enough water getting to the bowl to wash everything down. A Frederick County plumber can take a look and fix the problem to avoid a big mess.
Cold Showers
Is your water running cold after three people in your family take showers in the morning? Imagine how cold your guests will be when you add them to your household. There could be sediment buildup in the bottom of your hot water heater that's preventing your water from getting as hot as it should, and a plumber can drain that for you. Or if your hot water heater is around 10 years old, you may consider having a new hot water heater installed before guests arrive.
Clogged Drains
Lots of stuff will be going down your kitchen sink and garbage disposal on Thanksgiving (although you shouldn't pour fats, grease, or chunky foods into your drain, and no bones in your disposal). If you already notice that your kitchen sink is draining slowly, it could end up completely clogged during your big dinner. Liquids should flow straight through when you pour them down the drain, so if it's taking a few minutes for them to disappear, call a plumber now to clear the problem.
Dripping Faucets
Your water bill will certainly go up when you have extra showering, flushing, hand-washing, and cooking going on. If you already notice a leaky faucet anywhere in the house, it's worth it to call a plumber now to fix it so that doesn't add to the bill. A trained plumber can tell you if it's time to replace your faucet and have it fixed before your turkey is in the oven!
Putman Plumbing is happy to help you get prepared so you can enjoy your Thanksgiving and the rest of the holidays. Just give us a call!