Honest, trustworthy, professional. Richard Brenner
5% off on replacement OR
10% off drain cleaning OR
15% off repair
On your first service experience with us. Not to be combined with any other discount/offers. Does not apply to evaluation. May only be used once per individual customer.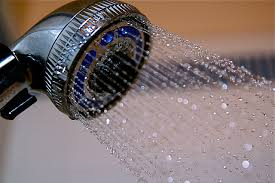 If you have a growing family, chances are the last person in line for a shower ends up with cold water (and the person before that is always being yelled at to hurry up before the water gets cold). You could upgrade to a larger hot water tank to allow each person to enjoy a warm shower, but you may also want to consider purchasing a tankless version, which warms the water continuously as it comes out. When you turn the shower on, cold water travels through a pipe into the water heater, then a gas burner or an electric element heats the water. Aside from endless hot water, a tankless water heater also delivers the following benefits:
Energy Efficient
According to Energy.gov, tankless water heaters "Don't produce the standby energy losses associated with storage water heaters, which can save you money." If you use 41 gallons or less of hot water each day, a tankless water heater can be nearly 30 percent more efficient. If you use more, you'll save around 15 percent. Overall, the average family will save over $100 per year in energy bills by switching to a tankless water heater.
Space Saving
While traditional tank water heaters take up space in the garage or basement, a tankless version is usually mounded on a wall. This frees up 10 to 15 square feet storage.
Better for the Earth
Sustainability is an increasingly important issue for homeowners and homebuyers. It's always good to know that you're not wasting energy on heating water you aren't going to use immediately, and if you're aiming to sell your home in the next decade, millennials especially will be delighted that your home has a modern, green feature.
Interested in Having a Tankless Water Heater Installed? Call Putman Plumbing
If you're thinking about buying a tankless water heater for your Frederick County home, we'd be happy to discuss the best models with you. It's important that you buy the right size for your space and have it installed by a professional plumber. Give us a call and we'll be happy to help!
If you're the last one in a 5-person household to get in the shower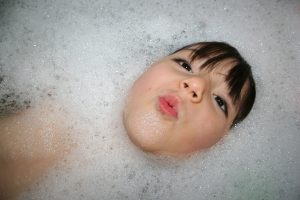 or bath, you'd better wash fast.  Fighting for the last bit of hot water is something many Frederick County households are used to doing, but wouldn't it be nice if you didn't get penalized for sleeping in? And what if you could also enjoy lower water bills? With a tankless hot water  heater, it's possible.
Energy Savings With a Tankless Heater
Even after everyone in your home has showered, your traditional tank water heater will automatically store and reheat 30 or 40 gallons of water so it's when you need to run the dishwasher, do laundry, etc. The problem is if you're not going to need that heated water until hours later or not at all for the day, you're still paying for the energy it takes to heat it. A tankless water heater only heats the water when it's needed, which lowers energy bills significantly.
What Type of Tankless Water Heater is Best?
Tankless heaters come in electric and gas, and range in size from small point-of-use models to whole house capability. A small under-the-counter electric unit used for bathroom sinks or garage sinks requires a 30A independent breaker while a whole-house, electrical tankless system, typically requires four 40A breakers. Newer homes are often wired to accommodate these, but older homes may require an electrical upgrade to meet this demand.
Benefits and drawbacks of electric tankless heaters include:
More energy efficient
No venting required
Easier to install than gas
May require upgrade to existing electrical system
Benefits and drawbacks of gas tankless heaters include:
Gas tankless heaters can deliver more hot water at a time
They require a gas line to the unit
Requires outside venting
Choosing a Location for a Tankless Heater
Whereas tank water heaters are usually in the basement or a utility room, a tankless system is more flexible when it comes to placement. If you have gas appliances and adequate electrical supply, you can review possible locations with your plumber to determine installation costs and the best placement for overall performance. Point of use models are small enough to fit in under sink cabinets while larger models can be installed on walls. Some models can even be placed as "boosters" close to your existing tank water heater.
Talk to Putman Plumbing About Switching to a Tankless Water Heater
Our plumbing technicians are knowledgeable in all aspects of water heaters. We want you to enjoy the water in your home as much as possible while also being able to enjoy lower utility bills. If you're thinking about switching to a tankless heater, ask us for advice. We'd love to chat with you.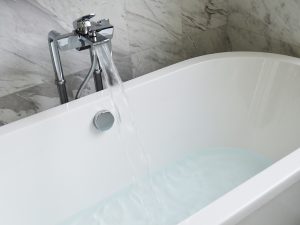 The first time water was able to be heated in a home was in 1868 when a London painter discovered he could heat his water by placing gas burners under his water pipes. Prior to that, there was no hot water to wash dishes, take showers or do laundry. Luckily Norwegian engineer Edwin Ruud heard about the painter's discovery and used that information to create the first water heater. Ruud brought his invention to Pittsburgh, where word spread fast that water heaters could be sold and installed in homes across the country and eventually the world. We owe a big thanks to both of these gentleman each time we step into a nice warm bathtub full of water!
Now that we've told you about the water heater's origin, let's take a look at a few things you should know about yours.
Reducing Energy Use
Water heaters use ¼ of the total energy in your home, and most Americans use between 80 to 120 gallons of hot water every year. If you want to keep your energy bill down, run the dishwasher only when it's full. And as much as we all love a hot bath, don't take them all the time. Instead, take brief shower on most days instead of filling up the tub.
Increasing A Water Heater's Life-Span
A traditional water heater usually lasts between eight to ten years. You can tell when your water heater is in need of a repair or a replacement, as the hot water tends to run out more quickly or takes longer to heat up. You should have a trusted Frederick County plumbing company check your water heater if it takes a long time for water to heat. Water from a bad water heater may also appear brown and have a metallic taste.
Ensuring Safety With the Right Temperature
According to energy.gov, 120 degrees is the safest temperature to keep your water heater. Try to keep your water heater between 120 and 140 degrees in order to save money and minimize risk of burns, as it only takes five seconds to suffer a severe third-degree burn if you come into contact with water hotter than 140 degrees.
Maintaining Your Water Heater
It's hard to remember to maintain a water heater since you don't look in your basement or closet often, but it's important to take care of  your water heater to make it last as long as possible. Your tank water should be emptied and refilled periodically to remove buildup of sediment, and a knowledgeable plumber from Putman Plumbing can inspect your water heater for leaks or odd smells or sounds.
Putman Plumbing Knows Water Heaters
We've fixed hundreds of water heater problems and installed hundreds of new units. If you hear any funny sounds or don't feel like your water is hot enough, let us know. Some Middletown homeowners who want to reduce energy bills are switching to tankless water heaters which heat water only at the point of use, and we can tell you if going tankless would benefit your bills. We'd love to help.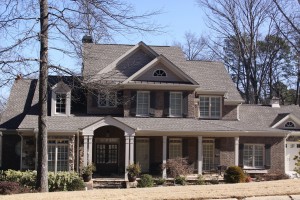 If you're planning on building a home, your first concern is probably how you want it to look. But besides choosing bricks, doors and windows, you'll need to decide how you want the inside of your home to function. Starting from scratch is a great time to think about some of the new energy efficient options that are available in plumbing.
Reasons to go Tankless
Most pre-existing homes operate on a standard gas or electric hot water heater tank, with the size of the tank being determined by the number of residents that will live there. The hot water lines are then ran from the tank to bathrooms, the kitchen, and laundry room. But since standard water heaters keep 30-50 gallons of water hot all the time, sometimes while you're not even home, they can waste a lot of energy. And often, if the bathroom or kitchen is some distance from the hot water heater, the water at the faucet needs to run for a few minutes for the hot water to reach its destination. Obviously, traditional water heaters are not the most energy efficient option.
According to the U.S. Department of Energy, tankless water heaters are about 40% more energy efficient than most. They are 90% smaller than the average standard model, and they last 5-10 years longer. By warming the water only at the point where it's needed, such as for a shower, the dishwasher, or the washing machine, you can save a substantial amount on energy bills.
Tankless point of use water heaters are available in gas and electric. The electric versions are a third of the size of the gas option, making it possible to install them in any location throughout the house, such as under sinks where hot water is needed quickly. Electric units cost less initially, and there is no need to run ventilation or gas lines. But the cost of installing electrical circuits for each point of use during construction is comparable to the cost of running hot water plumbing lines. You can talk to a licensed plumber about their recommendations for tankless hot water heater models.
Why to Consider High Efficiency Toilets
It's hard to believe some toilets made prior to 1992 used up to five gallons of water every time you flushed. Considering that toilets account for 30% of a home's water, imagine how high that water bill would be, especially if you have a big family! Since you'll be choosing toilets to go into your new home, take a look at some of the models that use only around a gallon per flush.
Today, you can find hundreds of toilet manufacturers that make high-efficiency toilets, and many of them are quieter than before. You can find dual flush systems as well, which can flush liquid and solid waste separately.
Don't just settle on the bathroom fixtures that your builder suggests. Take your time and figure out what will save you money – and be better for the Earth- in the long run.
Faucets and Shower Heads
Be sure to research which faucets and shower heads use the least amount of water per minute. High-efficiency faucets have a flow rate of no more than 1.5 gallon per minute (gpm), while high-efficiency shower heads use no more than 2 gpm.
When it's time to make plumbing choices for your new home in Middletown or any other town in Frederick County, give Putman Plumbing a call. You can trust us to make recommendations you won't regret.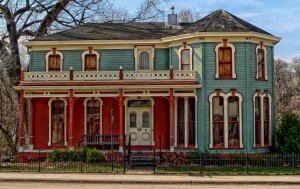 If you're getting a decent amount on your tax return, it's tempting to spend it on fun stuff. But instead of planning a cruise or a trip to the Poconos, why not invest in something that will improve your home's value and make it function better for years to come?
Particularly if your home is older than 50 years, it could have galvanized pipes that have corroded and clogged up. How can you tell? If your water pressure is low, your drains run slowly and you're experiencing leaks coming from faucets, your plumbing may need an update. You could also have mold in the walls created by water leaking from corroded pipes, which can be dangerous for the whole family.
Not only will having your plumbing updated make your home safer and stop some of the annoying leaks, but it will also make it worth more if you plan to sell it in the future. Galvanized piping can decrease the value of your home since there's a higher chance of water damage, and some cities actually require that plumbing be updated before selling an older home.
If old pipes are not your concern, consider upgrading your home's water heater to a tankless model. Tankless heaters only heat the water as needed, saving money on your energy bills, and they also outlast a traditional storage water heater by up to ten years.
Spending your money on plumbing improvements won't get you a great tan, but you'll be happy down the line when your home is worth more and your saving on monthly bills.
If you live in Frederick County, give Putman Plumbing a call to ask how we can help.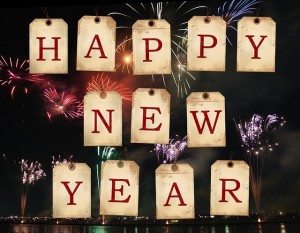 Can you believe it? It's already 2014. While you're making resolutions to improve yourself, don't forget to make goals to improve your home. Some of those things may be ways to maximize water efficiency and save on bills – which will make you a happier homeowner throughout the year.
Schedule a Plumbing Inspection
If you haven't had a plumber check out the water heater, pipes and other fixtures in a while, you should do it as soon as possible. Even if nothing seems wrong with the way your water flows, it's a good idea to have someone come in once year to check that everything is working as well as it should. Chances are your plumber can help you save on water and heating bills with a few suggestions.
Conserve More Water
Talk to your family about how everyone can help cut back on your water bill. Tell the kids not to let the water run when brushing their teeth, and encourage them to take shorter showers. Load up your washing machine and dishwasher as full as possible, and don't water the lawn when rain is in the forecast. You'll see lower water bills before you know it.
Consider Going Green
By replacing your current water heater with a tankless model, or installing fixtures like eco-friendly toilets and low-flow shower heads, you can help conserve water and energy. And with certain green improvements to your home, you might also qualify for tax rebates.
Make Kitchen and Bathroom Upgrades
Whether you've added more children to the family or the kids have grown and left the nest, certain plumbing changes can make your home function more comfortably. If the kids have trouble pulling out the old rickety faucet in the shower, you could replace it with a new one. Installing a commercial-style faucet with a pull-out sprayer in your kitchen sink could make rinsing stacks of dishes a lot easier. And if you've dreamed for years about soaking in a jetted tub, maybe this is the year it will finally happen.
We at Putman Plumbing wish you a safe and Happy New Year. Let us know if we can help you meet your plumbing needs in 2014.
Tomorrow, September 22, autumn will officially begin. Now the leaves will begin to change, pumpkin patches will sprout up, and the air will become cool and crisp. Soon, though, the weather will grow colder, and you want to make sure your home's plumbing system is ready for whatever elements autumn and winter will throw at it.
First, check the outdoor faucets and garden hoses and make sure to disconnect them so they won't freeze when the weather gets colder. Also, if you'll be out of town for a while when the air starts cooling, leave your thermostat at a medium temperature to prevent frozen pipes.
If you have any questions about how to prepare your home's plumbing system for autumn and winter, don't hesitate to contact us and schedule an appointment. Hot chocolate and pumpkin carving, here we come!
Do you currently have a plumbing or water problem but aren't sure if we're the ones to take care of it? Worry no more because here are the services we provide and the products we install and repair:
Well pumps
Well lines, public water lines to dwelling
Water treatment system
Water and sewer lines throughout a dwelling
Expansion tanks: now required by Frederick County code
Water heaters and alarm systems
Pressure tanks
Showers, tubs, sinks
Faucets
Toilets
Dishwasher installation
Icemaker installation
Laundry tub
Outside hydrants
Clearing drain lines
Drain maintenance programs
Sump pumps
Septic lines
Don't hesitate to contact us with any and all of your plumbing problems.
The holiday season might be long over, but perhaps you noticed that, with all your family and friends in town, the hot water was in high demand and short supply. Perhaps the shower turned cold or you couldn't get hot water to wash your hands.
The key to avoiding this dilemma next year and the solution to a hot water shortage is a tankless water heater.
What can that change, you ask? Well, there are several important benefits of a tankless heater, which include:
• Hot water without delay and only when it's needed
• Save on your water heating bill
• No worrying about running out of hot water
• Longer-lasting
• Better energy efficiencies than standard water heaters
• Smaller and less bulky
• Can be installed most places
Contact us at with any questions you might have.
If you recall one of the most famous marketing taglines of all time, you know the story of Avis: We're Number Two, but we try harder.
That means Avis carved out a position against Hertz of excelling with service. And it worked. That line meant that customers understood that the important thing was not who was number one, but who would provide better service. In fact, Avis made the customer feel like number one, which is what is really important after all.
That's why we at Putman Plumbing are delighted with our Number Two finish in the Best of Frederick voting for 2013. When you call Putman, you will always be number one because we will promise to always "try harder" and give you and your home the absolute best level of service you will get anywhere in Frederick County. Thank you!