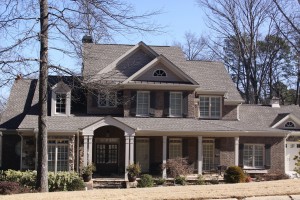 If you're planning on building a home, your first concern is probably how you want it to look. But besides choosing bricks, doors and windows, you'll need to decide how you want the inside of your home to function. Starting from scratch is a great time to think about some of the new energy efficient options that are available in plumbing.
Reasons to go Tankless
Most pre-existing homes operate on a standard gas or electric hot water heater tank, with the size of the tank being determined by the number of residents that will live there. The hot water lines are then ran from the tank to bathrooms, the kitchen, and laundry room. But since standard water heaters keep 30-50 gallons of water hot all the time, sometimes while you're not even home, they can waste a lot of energy. And often, if the bathroom or kitchen is some distance from the hot water heater, the water at the faucet needs to run for a few minutes for the hot water to reach its destination. Obviously, traditional water heaters are not the most energy efficient option.
According to the U.S. Department of Energy, tankless water heaters are about 40% more energy efficient than most. They are 90% smaller than the average standard model, and they last 5-10 years longer. By warming the water only at the point where it's needed, such as for a shower, the dishwasher, or the washing machine, you can save a substantial amount on energy bills.
Tankless point of use water heaters are available in gas and electric. The electric versions are a third of the size of the gas option, making it possible to install them in any location throughout the house, such as under sinks where hot water is needed quickly. Electric units cost less initially, and there is no need to run ventilation or gas lines. But the cost of installing electrical circuits for each point of use during construction is comparable to the cost of running hot water plumbing lines. You can talk to a licensed plumber about their recommendations for tankless hot water heater models.
Why to Consider High Efficiency Toilets
It's hard to believe some toilets made prior to 1992 used up to five gallons of water every time you flushed. Considering that toilets account for 30% of a home's water, imagine how high that water bill would be, especially if you have a big family! Since you'll be choosing toilets to go into your new home, take a look at some of the models that use only around a gallon per flush.
Today, you can find hundreds of toilet manufacturers that make high-efficiency toilets, and many of them are quieter than before. You can find dual flush systems as well, which can flush liquid and solid waste separately.
Don't just settle on the bathroom fixtures that your builder suggests. Take your time and figure out what will save you money – and be better for the Earth- in the long run.
Faucets and Shower Heads
Be sure to research which faucets and shower heads use the least amount of water per minute. High-efficiency faucets have a flow rate of no more than 1.5 gallon per minute (gpm), while high-efficiency shower heads use no more than 2 gpm.
When it's time to make plumbing choices for your new home in Middletown or any other town in Frederick County, give Putman Plumbing a call. You can trust us to make recommendations you won't regret.