If you're the last one in a 5-person household to get in the shower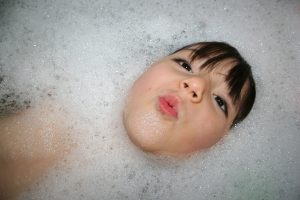 or bath, you'd better wash fast.  Fighting for the last bit of hot water is something many Frederick County households are used to doing, but wouldn't it be nice if you didn't get penalized for sleeping in? And what if you could also enjoy lower water bills? With a tankless hot water  heater, it's possible.
Energy Savings With a Tankless Heater
Even after everyone in your home has showered, your traditional tank water heater will automatically store and reheat 30 or 40 gallons of water so it's when you need to run the dishwasher, do laundry, etc. The problem is if you're not going to need that heated water until hours later or not at all for the day, you're still paying for the energy it takes to heat it. A tankless water heater only heats the water when it's needed, which lowers energy bills significantly.
What Type of Tankless Water Heater is Best?
Tankless heaters come in electric and gas, and range in size from small point-of-use models to whole house capability. A small under-the-counter electric unit used for bathroom sinks or garage sinks requires a 30A independent breaker while a whole-house, electrical tankless system, typically requires four 40A breakers. Newer homes are often wired to accommodate these, but older homes may require an electrical upgrade to meet this demand.
Benefits and drawbacks of electric tankless heaters include:
More energy efficient
No venting required
Easier to install than gas
May require upgrade to existing electrical system
Benefits and drawbacks of gas tankless heaters include:
Gas tankless heaters can deliver more hot water at a time
They require a gas line to the unit
Requires outside venting
Choosing a Location for a Tankless Heater
Whereas tank water heaters are usually in the basement or a utility room, a tankless system is more flexible when it comes to placement. If you have gas appliances and adequate electrical supply, you can review possible locations with your plumber to determine installation costs and the best placement for overall performance. Point of use models are small enough to fit in under sink cabinets while larger models can be installed on walls. Some models can even be placed as "boosters" close to your existing tank water heater.
Talk to Putman Plumbing About Switching to a Tankless Water Heater
Our plumbing technicians are knowledgeable in all aspects of water heaters. We want you to enjoy the water in your home as much as possible while also being able to enjoy lower utility bills. If you're thinking about switching to a tankless heater, ask us for advice. We'd love to chat with you.