I know I can trust Pat and Marlena. [Putman] is prompt, pleasant, with quality work. Brian W.
5% off on replacement OR
10% off drain cleaning OR
15% off repair
On your first service experience with us. Not to be combined with any other discount/offers. Does not apply to evaluation. May only be used once per individual customer.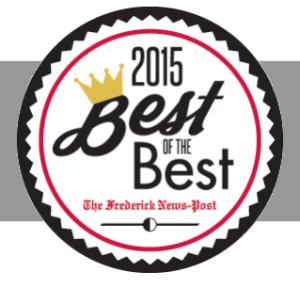 We'd like to thank our valued customers for nominating us as one of the Top 5 Plumbers in the Frederick News-Post 2015 Readers' Choice Best of the Best! Our goal with each service call is to come away with one more satisfied customer, so knowing we've done that time and time again is truly a blessing.
We hope you will help us to make it to the top! To vote for Putman Plumbing, you can cast your vote at 
fredericknewspost.com/BOB
. And while you're there, vote for your favorite Frederick County businesses in other categories.
Winners will be announced 
September 30th
in the Best of the Best newspaper insert, so stay tuned!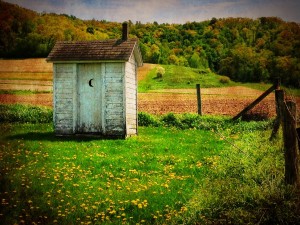 Have you ever thought about what life would be like without a toilet in your home or warm running water? It would mean a freezing cold walk to a stinky  outhouse in the winter, and a frigid bath at any time of year.
But due to some pretty smart fellows back in the 1800's, we're lucky enough to ease our way into our days with fresh smelling bathrooms and hot showers. It's no surprise that a day has been reserved to annually thank those guys who developed modern plumbing. Today, April 25th, is National Hug a Plumber Day.
Let's take a look at how far plumbing has come in the last couple of centuries:
Sewers were not originally underground. The first underground sewer was installed in 1728 after New York health officials responded to complaints about the stench of open sewers.
In 1830, after many fires had taken place in New York without adequate water supply to fight them, the first public water main was installed under New York streets.
Around 1850, drainage piping systems were installed in buildings to carry sewage away to where it could be safely disposed of.
In the 1870s, private homes and small buildings were able to have warm water. Circulation pipes were installed between water-heating units and hot water storage tanks so large amounts of pressurized hot water could be supplied.
 In 1874, the world became a better smelling place when plumbers connected a vent pipe to the drain at the trap outlet.  This method, called The Venting Theory, allowed the air pressure to be kept the same, preventing awful odors and gases from escaping at waste outlets.
If you see a plumber this weekend or any time soon, give him or her a hug (or a handshake). They dedicate their days to making our lives a lot more pleasant than they could have been!
And if you find yourself with leaky faucets, strange smells, or cold showers, give Putman Plumbing a call.
Buying a new home is an exciting time, but it can also be stressful. If you've found the house of your dreams in the Middletown area, don't forget to cover all the bases to avoid more stress down the road caused by major plumbing problems. Here are a few things you can check for when looking at potential homes:
 In the bathroom
Check to see how fast the toilet flushes.
Check around the base of the toilet for signs of water damage, such as black or white stains or rolled vinyl.
Check for a "soft floor" by standing straddled over the toilet and rocking back and forth on each foot. If the floor feels spongy, it's probably rotting or weakened.
In the kitchen
Check to make sure that the dishwasher connection isn't leaking.
Look at the inside of cabinets with a flashlight for signs of water damage, warped cabinet bottom or stains.
Turn on the faucet and see how well the water flows. If it's slow, there may be a buildup of calcium and mineral deposits in the pipes.
In the basement
Check exposed piping for signs of leaking or recent repairs.
Check the date of the water heater. The first four numbers of the serial number on the water heater are the month and year. Any heater over 15 years old will need to be replaced soon.
A rusty water tank is a sign of pending problems.
In the yard
Check for standing water. Excess water in the yard may be coming from a damaged sewer line and may contain waste from the home.
Get a Plumbing Inspection to Look for Deeper Problems
Even if you've checked all of these things, your best bet is to have a licensed plumber inspect the home before you close on it. A general inspector will do a visual inspection of fixtures, but a plumber can go much deeper.
A plumber can do a video inspection of the underground sewer pipe, which may be a good idea in older homes with clay or concrete sewer pipes. They can also tell you what type of piping is in the house and whether any of it is a known risk for failure. They'll check your meter, outside hose bibs and gutters, and can detect signs of leakage in crawl spaces and basements that you may have missed.
Call Putman Plumbing before you buy – so you're not regretting your purchase after it's too late.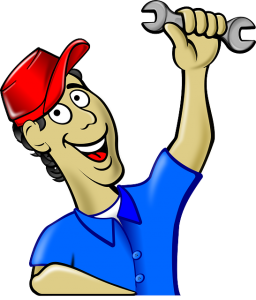 Did you remember to hug a plumber yesterday? If not, it's never too late!
April 25th is National Plumbers Day, or Hug a Plumber Day. But plumbers do enough to deserve thanks every day.
They keep everything flowing, and keep it from overflowing. They ensure that your drinking water is clean, and that your hot water stays hot. They fix leaks to prevent major damage to your home. Because of plumbers, the pipes in businesses and cities continue functioning so our economy keeps moving.
Thank a plumber today for doing all the gross, icky jobs so you don't have to.
We're proud to employ trained, skilled plumbers that make your needs their priority. Let us know how we can help!
Here we go again!
There's nothing we can do to prevent the foot of snow we're expected to get in Middletown tonight, and chances are if you have a problem, it might take us a while to get to you.
Here are a few precautions you can take to avoid plumbing problems the storm might cause.
Protect Your Well Pump
If you're on a private well and the power goes out, turn the breaker off to the pump. This will protect the pump when the power comes back on.
Keep Your Toilets Flushing
While your water is flowing well, fill up the bathtub in each bathroom. If your pipes end up freezing, you can use this water to fill the toilet tank so you can continue to flush. Simply fill the tank up to the fill tube/flush valve. You don't need to turn the supply to the tank off.
Prevent Your Pipes From Freezing
Leave your sink cabinet doors open so the pipes have access to warmer air. Even if you lose heat, this will allow trapped cold air in the cabinets to escape, making it harder for the pipes to freeze.
Also leave your faucets on at a tiny trickle, especially if they're located close to an exterior wall.
Save Your Bib Lines
If you haven't already and can get to them, wrap your hose bib lines with insulation. Drafts into spaces where piping exists is the number one cause of frozen and burst hose bib lines. If you don't have insulating material, you can use cloth or newspaper, then cover them with plastic bags.
Other than that, sit tight and stay safe and warm.
Did you know that this coming week, October 7-13, is National Customer Service Week? We always want to strive to provide you with the best customer service possible, but it never hurts to have an extra reason to do so.
Our aim at Putman is to put you, the customer, first. Our plumbing professionals are reliable, polite, punctual, and they get the job done. We want you to be completely satisfied with our service.
We like to think that we celebrate customer service week every week! Contact us to schedule an appointment today.
Tomorrow, September 22, autumn will officially begin. Now the leaves will begin to change, pumpkin patches will sprout up, and the air will become cool and crisp. Soon, though, the weather will grow colder, and you want to make sure your home's plumbing system is ready for whatever elements autumn and winter will throw at it.
First, check the outdoor faucets and garden hoses and make sure to disconnect them so they won't freeze when the weather gets colder. Also, if you'll be out of town for a while when the air starts cooling, leave your thermostat at a medium temperature to prevent frozen pipes.
If you have any questions about how to prepare your home's plumbing system for autumn and winter, don't hesitate to contact us and schedule an appointment. Hot chocolate and pumpkin carving, here we come!
No one will ever forget where they were the morning of September 11, 2001. This past Wednesday marked the 12th anniversary of the tragic day that has gone down in history as the "day the world stopped."
Countless memorials remember and honor policemen, firemen, and citizens who risked — and often gave — their lives to save others. We want to thank everyone who bravely served our nation that day and every day. They are real-life superheroes, for which we are truly grateful.
So from all of us at Putman, thank you!
Yesterday, the first Sunday after Labor Day, was National Grandparent's Day! After all, grandparents do so much for us, so it only seems fitting to honor them in this way. They give us love, wisdom, and hugs that only a grandparent can give.
This special holiday was created in 1978 by President Jimmy Carter and has stuck ever since. Let's keep the spirit of this day alive all year and show them how much they mean to us every day.
From all of us at Putman, we wish all the grandparents out there a joy-filled year!
We know you work hard, and you deserve a break! Most Americans work over 40 hours a week, which often leads to stress and exhaustion. Labor Day, the first Monday in September, was created back in 1882 to be a holiday that would honor all working U.S. citizens and give them a day off. It was also a victory for workers' conditions, pay, and rights.
Americans celebrated the very first Labor Day with a parade and fireworks, which is a tradition that largely carries on today. Other common ways to celebrate the holiday include vacation, picnics, barbecues, lounging by the pool, and relaxing with friends and family.
At Putman, we'd like to wish everyone a safe and fun Labor Day weekend! Don't hesitate to contact us if you're experiencing any plumbing problems!