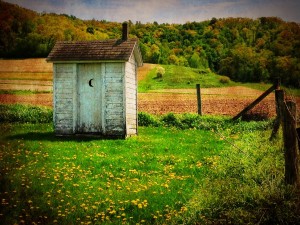 Have you ever thought about what life would be like without a toilet in your home or warm running water? It would mean a freezing cold walk to a stinky  outhouse in the winter, and a frigid bath at any time of year.
But due to some pretty smart fellows back in the 1800's, we're lucky enough to ease our way into our days with fresh smelling bathrooms and hot showers. It's no surprise that a day has been reserved to annually thank those guys who developed modern plumbing. Today, April 25th, is National Hug a Plumber Day.
Let's take a look at how far plumbing has come in the last couple of centuries:
Sewers were not originally underground. The first underground sewer was installed in 1728 after New York health officials responded to complaints about the stench of open sewers.
In 1830, after many fires had taken place in New York without adequate water supply to fight them, the first public water main was installed under New York streets.
Around 1850, drainage piping systems were installed in buildings to carry sewage away to where it could be safely disposed of.
In the 1870s, private homes and small buildings were able to have warm water. Circulation pipes were installed between water-heating units and hot water storage tanks so large amounts of pressurized hot water could be supplied.
 In 1874, the world became a better smelling place when plumbers connected a vent pipe to the drain at the trap outlet.  This method, called The Venting Theory, allowed the air pressure to be kept the same, preventing awful odors and gases from escaping at waste outlets.
If you see a plumber this weekend or any time soon, give him or her a hug (or a handshake). They dedicate their days to making our lives a lot more pleasant than they could have been!
And if you find yourself with leaky faucets, strange smells, or cold showers, give Putman Plumbing a call.