I would say that you are fast and very efficient in all of the work that you have performed for me at my
house. All your employees that I have met are always cleanly dressed and are very well-mannered.
A. Jo Ann Crouse
5% off first time plumbing replacement
10% off first time drain cleaning
15% off first time plumbing repair
Not to be combined with other discount offers. Does not apply to evaluation. May only be used once per individual customer.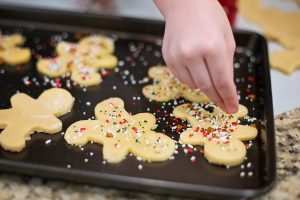 You may think cookies, candy, gifts and decorations are the most important parts of hosting a successful holiday party, but there's something your guests will remember even more if it goes wrong — your plumbing! To avoid a disaster from happening while having a festive time with friends and family, follow these tips!
Point Guests to Multiple Bathrooms
You don't want guests to have to wait in line to use the toilet, so let them know which bathrooms are available for use. It might mean cleaning the kids' toilets before your party, but it will also prevent clogs that could happen from too many people using your hall bathroom.
Keep a Trash Can Near the Toilet
Hopefully most guests know what can be flushed and what can't, but providing a trash can will be a good reminder. If you're not sure about the toilet knowledge of some of your guests, place a sign that lists things NOT to flush like feminine products, baby wipes, and paper towels.
Provide a Plunger in Plain Sight
You don't want guests to be embarrassed if they happen to cause an overflow. Keeping a plunger next to the toilet will ensure that guests can catch a clog before it floods the bathroom.
Keep an Eye on the Garbage Disposal
Hopefully you know by now not to put grease, oil, or hard items like bones in your garbage disposal. You never know if guests will try to grind the wrong foods, so it's best to show them to the trash can when they're finished eating.
If You Have a Plumbing Problem in Your Middletown Home, Call Putman!
We hope your party goes great and all your guests have a wonderful time. Just in case you have a clogged toilet, a broken garbage disposal, or any other plumbing issue, our licensed plumbers are only a phone call away. Happy Holidays!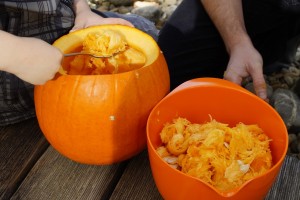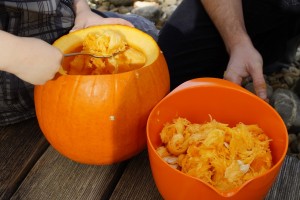 Halloween is this Wednesday, and hopefully you've already enjoyed some of the fun and scary things going on around Frederick County. If you haven't had your fill of Halloween fun, don't worry. There are still some events in the area going on this week and next weekend.
Gaver Farm Field Trip on October 31. Meet up with other homeschooling families at this Mt. Airy Farm, where kids can wear their costumes, pick pumpkins, take a hayride, run through a corn maze and play on playgrounds!
Screamland Farms  on November 2 and 3. This haunted attraction in Frederick will still be open next weekend, so check it out to experience the Hayride of Horrors and zombie paintball!
SuperHero Fall Kidfest in Leesburg on November 3rd offers a chance for your little ones to wear their costumes again and eat some yummy BBQ.
Carving Pumpkins This Week? Read This First!
If your family plans to carve pumpkins this week or you'll be making pumpkin pie in the near future, it's important that you dispose of scraps properly. No parts of a pumpkin should ever go in the drain or garbage disposal! Stringy guts can clog drains and wrap around the blade causing it to stop, while pumpkin rinds and seeds are too hard for the blade to cut through, so they can damage the disposal.
Avoid a clogged sink and broken garbage disposal by scooping guts and seeds into a bowl or newspaper, then throwing the scraps into the trash can or a compost pile.
Happy Halloween from All of Us at Putman Plumbing!
We hope you have a safe and fun Halloween. Plumbing problems can be scary, so if you need any plumbing help from a trusted plumber in Middletown this week or any time, give us a call!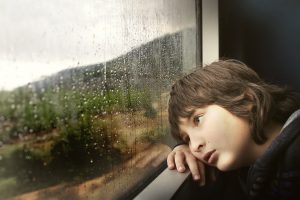 It looks like it's going to be a rainy week in Middletown. We've talked about the importance of a sump pump during rainy seasons to keep your basement dry, and that if you notice your sump pump acting strange you should call us. But there are also some other plumbing problems that can happen in stormy weather that can affect your plumbing system's health and your family's safety.
When an excessive amount of water backs up your sewer system, it can cause backdrafting in your home.  It's imperative that you find out how to prevent this from happening and how to handle it if it does in order to keep your family safe.
What is Backdrafting?
Appliances such as boilers and water heaters are designed to release harmful byproducts such as carbon monoxide and explosive methane gases through a flue where they safely exit the home. But when excessive rain water backs up your drain system, it can cause negative air pressure inside the home to draw in these dangerous gases. If this happens in your home, you'll notice a sewer odor in your home. It's important to identify where negative air pressure could be coming from, particularly during rain, sewer, or storm drain flooding. Some possibilities could be:
Improperly installed exhaust fans
Plumbing vents installed too closely to a window, a soffit vent or a bathroom/kitchen vent
Plumbing drains packed with debris
An improperly located water heater
How Can Putman Plumbing Fix My Backdrafting Problem?
If you notice a sewer-like smell after heavy rains, be sure to call us for professional plumbing help. We will run tests to determine if backdrafting is the cause and if it is, we'll find out why it's happening. We may need to find a safer place to install your water heater, clear drains, or replace plumbing vents and exhaust fans. You can be certain we are the best plumbing company in Frederick County for the job!
Call Putman Plumbing for your sump pump or ventilation needs today. We'll be happy to help.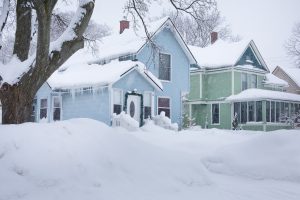 It may be the first day of spring, but it clearly doesn't feel like it in Frederick County! With up to 12 inches of snow expected in parts of Maryland, there's a possibility that too much snow could settle on your roof and cause plumbing problems.
How can snow on the roof cause plumbing problems?
Your sewer releases gases through a vent stack located on your roof. After a really heavy snow, that vent can become blocked and prevent air pressure from regulating your system. Smelly, potentially dangerous gases can back up into your living space if the problem isn't addressed quickly.
Signs that your sewer vent is blocked:
Gurgling in drains. You may hear gurgling or see water bubbling up and out of drains. You may even hear gurgling in your toilet after you flush. This happens because air that should be flowing up and out of the sewer vent has nowhere to escape but through the drains.
If your sewer vent is blocked, you may even hear gurgling in drains other than the one you're using. For example, if you flush a toilet, you may hear gurgling in the tub. This indicates that these two plumbing fixtures share a vent-and it is blocked. In some cases, gurgling noises indicate that there is no vent for that drain or fixture.
Slow Drains. A single slow drain may just mean the drain or pipe is clogged, but if all of the drains in your home are slow and you're also noticing the other issues we're describing, blocked sewer vents are very possible.
Sewage Odors. If you smell rotten eggs coming from your drains and toilets, you're probably smelling  air escaping through the drains due to blocked sewer vents. You may even experience headache, nausea, dizziness and drowsiness due to these gases.
How to Deal With a Blocked Sewer Vent
Of course the best solution is to clear snow away from the vent and melt any snow that has made its way into the vent, but that may not be possible right away during a snow like we're expecting. An immediate way to prevent gases from entering your living space is to add water to basement floor drains, empty shower stalls and unused basement toilets. This helps because a blocked vent stack causes water to siphon from water traps in the drain line between each fixture and the main stack. As water is pulled from the traps to replace existing water/air flow, it will allow sewer gases to enter the home. More water in the traps prevents that gas from entering.
To prevent this problem from happening again, your trusted Middletown plumber can replace your vent pipe with a longer one so it's less likely to become blocked.
Call Putman Plumbing if You Suspect a Blocked Sewer Vent or Any Other Plumbing Problems
Hopefully this will be the last winter storm in Frederick County. If you have plumbing problems now or any time this spring, give us a call.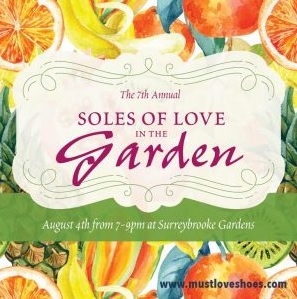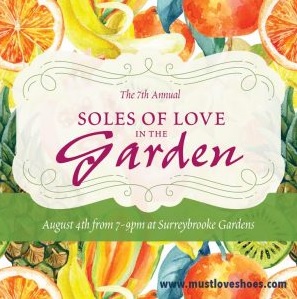 We are proud to sponsor Soles of Love in the Garden at the "Wedge" level. In the past 6 years, this charity event has donated over 1,700 shoes to Frederick County area students, and raised additional money to purchase winter boots for these children as well.
This year, Soles of Love in the Garden will be held at Surreybrooke in Middletown on August 4th from 7 pm to 9 pm. The garden party will be a  relaxing evening of friendship, conversation, music, and community. Each guest is asked to donate new children's shoes that will be given to children in need. This year's theme is "Fruits of Summer," and guests are invited to dress in the color of their favorite fruit to pay tribute to the "Fruits of the Spirit."
"But the fruit of the Spirit is love, joy, peace, forbearance, kindness, goodness, faithfulness, gentleness and self-control." (Galatians 5:22-23).
Soles of Love in the Garden was established in in 2011 after Julie Gaver recognized how many local families were in need of shoes for their children. Julie decided to start a charity in which friends could enjoy time in the garden with her (one of her favorite pastimes) while collecting shoes for these families in need.
Tickets for the event are $20 and can be purchased here.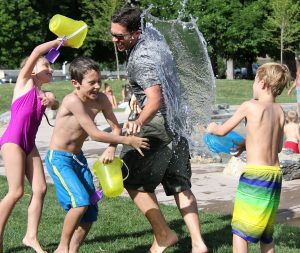 We want to wish a Happy Father's Day weekend to all the awesome dads out there. Whether you're the dad or you're celebrating your dad, we hope you plan to spend some fun family time together in the next few days. These hard-working dads deserve it!
Here are some ideas for things to do around town. Hopefully you don't end up with any plumbing problems that get in the way of your plans!
E.T. Under the Stars
Take dad back to his childhood as you watch E.T. together Friday in Carroll Creek Ampitheater. Gates open at 8 p.m. and the movie starts at 9. Admission is free and snacks and drinks are available for purchase.
Baseball With Dad
There aren't many dads who don't love a good baseball game. Head to see the Frederick Keys play the Hillcats Friday, Saturday or Sunday at Harry Grove Stadium. On Father's Day, you can even play catch with him on the field for 30 minutes after gates open!
Music
If dad is a movie lover, take him to Frederick Community College on Saturday night for the Forbidden Love Movie Themes Concert. Music will be played from Titanic, Romeo and Juliet, Forrest Gump, Phantom of the Opera and West Side Story. Show starts at 7:30 p.m. and tickets are from $15-$25.
Is your father a Beatle's fan? On Sunday at Baker Park Bandshell, Abbey Road LIVE! will be playing sounds of the Beatles starting at 7 p.m.
Local Beer
Take dad to sample some of Frederick County's locally brewed beer. Head to Milkhouse Brewery in Mount Airy, Flying Dog Brewery in Frederick, or grab dinner and a drink at Brewer's Alley Restaurant in Frederick.
Fun at Home
Life is busy. If you don't get to hang out at home with the kids much, have a water fight. Watch a DVD. Just enjoy spending time together.
Happy Father's Day from Putman Plumbing
We hope you have a wonderful weekend without any plumbing problems, and enjoy making new memories with your family. If you do happen to need our services, just give us a call.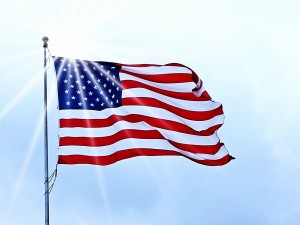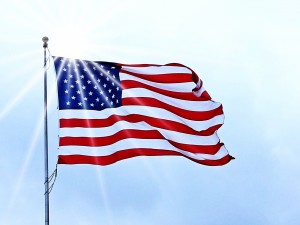 Today we thank all the brave men and women who have fought for our freedom. We honor your selfless response to the call to defend, to stand beside our country. Your courage will never be forgotten, and we will never take our freedom for granted!
Here is some information about how Veterans Day came to be, courtesy of the U.S Department of Veteran Affairs (va.gov):
World War I – known at the time as "The Great War" – officially ended when the Treaty of Versailles was signed on June 28, 1919, in the Palace of Versailles outside the town of Versailles, France. However, fighting ceased seven months earlier when an armistice, or temporary cessation of hostilities, between the Allied nations and Germany went into effect on the eleventh hour of the eleventh day of the eleventh month. For that reason, November 11, 1918, is generally regarded as the end of "the war to end all wars."
In November 1919, President Wilson proclaimed November 11 as the first commemoration of Armistice Day with the following words: "To us in America, the reflections of Armistice Day will be filled with solemn pride in the heroism of those who died in the country's service and with gratitude for the victory, both because of the thing from which it has freed us and because of the opportunity it has given America to show her sympathy with peace and justice in the councils of the nations…"
An Act (52 Stat. 351; 5 U. S. Code, Sec. 87a) approved May 13, 1938, made the 11th of November in each year a legal holiday—a day to be dedicated to the cause of world peace and to be thereafter celebrated and known as "Armistice Day." Armistice Day was primarily a day set aside to honor veterans of World War I, but in 1954, after World War II had required the greatest mobilization of soldiers, sailors, Marines and airmen in the Nation's history; after American forces had fought aggression in Korea, the 83rd Congress, at the urging of the veterans service organizations, amended the Act of 1938 by striking out the word "Armistice" and inserting in its place the word "Veterans." With the approval of this legislation (Public Law 380) on June 1, 1954, November 11th became a day to honor American veterans of all wars.
Today in the U.S., there are 21 million veterans. Again, we thank you for your service and honor your courage! Happy Veterans Day, from all of us at Putman Plumbing!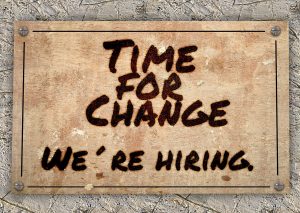 Even if you're NOT looking for a job, we may be looking for YOU!
Growing and in demand "Best of the Best" Finalist Putman Plumbing is seeking a residential plumbing service technician with MD Journey License or 8+ years experience for service and repair of all plumbing fixtures, drain concerns, septic, well pumps, water treatment.
Competitive hourly wages plus great benefits including individual bonus opportunity, medical insurance, paid vacation and sick time, IRA plan, professional training, and no long daily commutes.
If you're a good communicator, enjoy helping people and are up to the task of problem solving, then you may be the one we're looking to hire. Call 301-371- 4040.
All serious contenders will be drug tested and background checked.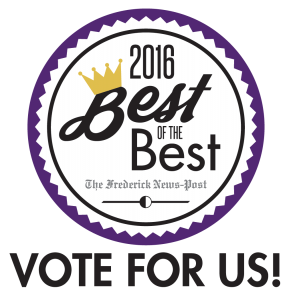 We can't tell you how much we appreciate your business. Can you  show us how much you appreciate our services? If we've ever helped you with clogged drains, an outdated water heater, stopped-up toilets or any other plumbing problem, vote for us in Frederick News-Post's Best of the Best contest. You can vote once per day through
August 21st, so vote as many times as you can to help Putman Plumbinh become the Best Plumber in Frederick County! 
Just click
here
to get to the service page of the ballot. If you vote in at least 60 categories, you'll be entered in a drawing to win $500. Good luck, and thanks for your help!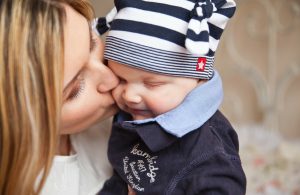 Moms do so much for everyone around them. Whether she's a brand new mom, a mom with a whole crew of kids, or a seasoned grandmother, one thing is certain: She deserves a break!
This Mother's Day weekend, show your mom, wife, or grandma a Mother's Day she deserves with a little relaxation. Let her nap if she wants to. Have the kids clean up after dinner, or take her to her favorite restaurant. Give her a gift certificate to get a massage, or just encourage her to sit still for a while and be a part of the family's conversation. Show her how appreciated she really is.
To all of the moms out there, Happy Mother's Day from all of us at Putman Plumbing!