With the change in fall colors come the threat of severe storms. That can lead to leaky basements. Bottom line: IT'S TIME TO CHECK YOUR SUMP PUMP
Putman Plumbing is making it easy with the StayDry Sump Pump Special.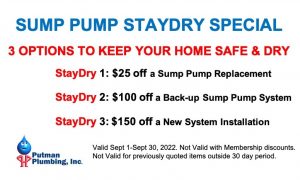 Save up to $150 when you have a professionally-trained expert from Putman Plumbing install a new sump pump in your home. Call us or go online to make your appointment today as this offer ends September 30.