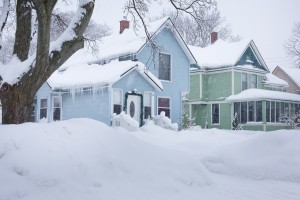 With snow expected in Frederick County and throughout Maryland tomorrow, and temperatures dropping into the teens next week, it's a good time to remind area residents how to protect your plumbing in winter weather. As much as we love the business, it's best to be proactive and be prepared if you want to keep your home running smoothly and everyone in it happy!
Winterize Your Plumbing
Disconnect outdoor hoses. Drain any water in them and store the hoses in a dry place.
Shut off outdoor valves. Locate shut-off valves for outdoor faucets and shut the water off in a clockwise direction.
Insulate exterior pipes. You can find insulation sleeves that fit right over existing pipes at your local hardware or home improvement store.
Keep Pipes From Freezing in Extreme Temperatures
We're not worried about pipes freezing yet, but keep these things in mind when we're expecting temps to stay below freezing for longer periods.
Wrap exposed pipes in towels or insulating material.
Open bathroom and kitchen cabinet doors to allow warmer air to circulate around the plumbing.
When outside temperature are extremely cold, let the water drip from the faucet.
Never turn your heat off, even if you'll be gone for a few days. Set the thermostat no lower than 55° so pipes don't freeze.
If frigid temps are expected, fill up the bathtubs with water so you can use it to flush toilets if pipes freeze.
You'll Know if Your Pipes are Frozen
If you turn your faucet on and nothing comes out (or it's just a trickle), the pipes could be frozen. To thaw pipes, don't ever use a flame. Instead:
If you have running water, run hot water on rags and rub them along the pipes.
Open the cabinets and put a space heater in the room or turn up your home's thermostat.
What if a pipe breaks?
If a pipe breaks, close the main shut-off valve to prevent flooding. The valve will be in the basement, garage, or outside by the foundation. If you can't locate a shut-off valve, call the utility company. Then, call Putman Plumbing right away for help!