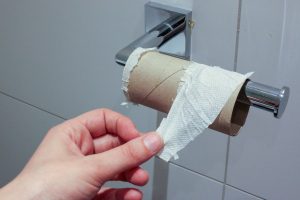 Just like you, we at Putman Plumbing never thought we'd see a day when people were hoarding toilet paper. Just about every shelf in Frederick County stores is empty unless you happen to be there when a truck is being unloaded. It's crazy! Hopefully you won't find yourself completely out of toilet paper, but if you do, we want to remind you that nothing else should be flushed down the toilet.
What Can't Be Flushed?
When toilet paper is flushed, it dissolves almost instantly. But if you're all out of toilet paper, you may only have paper towels, tissues, napkins or baby wipes to use in the restroom. Please remember that if you use those, you should throw them in a lined trash can. They are not made to dissolve quickly in water and will cause a clogged toilet if flushed. And if they make their way beyond your home's pipes, they can ball up and also damage the municipal sewer system — and possibly even cause damage to municipal sewage treatment facilities.
What About Flushable Wipes?
If you're able to get your hands on flushable wipes in stores, keep in mind that you can't flush them at the same frequency rate as toilet paper. They are not highly dissolvable so when they're being used nonstop, they can pile up and form into a ball that will clog your whole system. Consumer Reports once  did a test on flushable wipes and found that after 30 minutes of simulated swirling (just like a toilet bowl) the wipe was still intact. You can imagine what will happen in your plumbing pipes if these are being used frequently. The best thing to do to avoid clogs is to put flushable wipes in a lined trash can (and empty it often of course), but if your family insists on flushing them, tell them to only flush one at a time.
Need Plumbing Help? Putman Plumbing is Still Here for You!
We are always here to help with any plumbing problems you have. We may not be able to find toilet paper for you, but we will certainly do all we can to keep your plumbing system running its best. Just give us a call and we'll be happy to help.