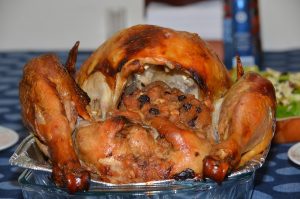 Putman Plumbing has been blessed with another year of wonderful business, and that's all because of our customers! Whether your day includes watching the Macy's Parade, playing football with the kids or grandkids, or just enjoying delicious food, we hope it's filled with lots of laughs and new memories with loved ones.
Just a reminder as you prepare to cook your dinner, you can avoid problems with your garbage disposal and drains by following a few guidelines:
Don't pour oils or fatty liquids down the drain. They will surely clog your pipes! Instead, pour oils and fats into a can and after it hardens, throw it in the trash. Then use a paper towel to wipe residual grease out of pans and dishes before you wash them.
Scrape foods like rice and breads that swell up into the trash can. If you pour them in the drain, they'll expand just as they do in your stomach, and that can slow down your drain and even cause clogs.
Your garbage disposal was really made for small, soluble bits of food. So don't put skins, peels from vegetables, or hard fibrous scraps into the garbage disposal.
Happy Thanksgiving from all of us at Putman Plumbing! We are truly thankful for your business!