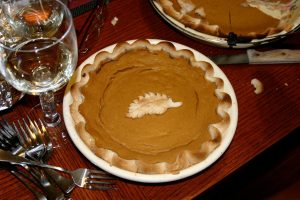 Putman Plumbing is thankful for another year in business, and that's all because of our faithful customers like you! We're also thankful to have modern plumbing in our country including comfortable toilets, private warm showers, and clean drinking water. These are luxuries that not everyone has, so we should all be thankful for them. (To get a better understanding of how fortunate we are to have the bathrooms we do, check out this article published last week on World Toilet Day).
We wish you and your family a happy Thanksgiving filled with great food and warm memories. Here are just a few reminders to avoid plumbing problems this weekend so you don't end up with a big mess with a house full of guests:
Don't pour oils or cooking grease down the drain because they can harden and clog pipes. Instead, pour them into a can and after it hardens, throw it away. Use a paper towel to wipe any grease left out of pans and dishes before you wash them.
Scrape rice, bread, other foods that swell up into the trash can. If you pour them in the drain, they'll expand and cause clogs.
Don't put turkey bones and skins, peelings from onions or celery, or anything else hard like pumpkin rinds into the garbage disposal as they could dull the blades and even break it.
Support Small Business Saturday
If you plan to do some holiday shopping this weekend, please support your local Middletown and Frederick County businesses!
Happy Thanksgiving from all of us at Putman Plumbing! If you have any plumbing problems, give us a call.