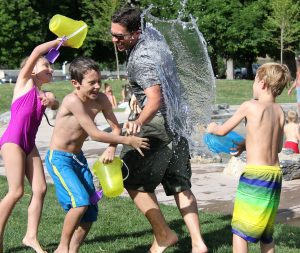 We want to wish a Happy Father's Day weekend to all the awesome dads out there. Whether you're the dad or you're celebrating your dad, we hope you plan to spend some fun family time together in the next few days. These hard-working dads deserve it!
Here are some ideas for things to do around town. Hopefully you don't end up with any plumbing problems that get in the way of your plans!
E.T. Under the Stars
Take dad back to his childhood as you watch E.T. together Friday in Carroll Creek Ampitheater. Gates open at 8 p.m. and the movie starts at 9. Admission is free and snacks and drinks are available for purchase.
Baseball With Dad
There aren't many dads who don't love a good baseball game. Head to see the Frederick Keys play the Hillcats Friday, Saturday or Sunday at Harry Grove Stadium. On Father's Day, you can even play catch with him on the field for 30 minutes after gates open!
Music
If dad is a movie lover, take him to Frederick Community College on Saturday night for the Forbidden Love Movie Themes Concert. Music will be played from Titanic, Romeo and Juliet, Forrest Gump, Phantom of the Opera and West Side Story. Show starts at 7:30 p.m. and tickets are from $15-$25.
Is your father a Beatle's fan? On Sunday at Baker Park Bandshell, Abbey Road LIVE! will be playing sounds of the Beatles starting at 7 p.m.
Local Beer
Take dad to sample some of Frederick County's locally brewed beer. Head to Milkhouse Brewery in Mount Airy, Flying Dog Brewery in Frederick, or grab dinner and a drink at Brewer's Alley Restaurant in Frederick.
Fun at Home
Life is busy. If you don't get to hang out at home with the kids much, have a water fight. Watch a DVD. Just enjoy spending time together.
Happy Father's Day from Putman Plumbing
We hope you have a wonderful weekend without any plumbing problems, and enjoy making new memories with your family. If you do happen to need our services, just give us a call.