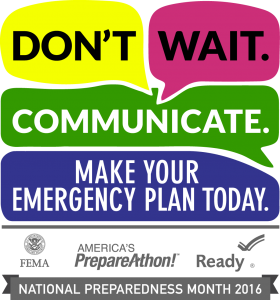 September is National Preparedness Month, which FEMA established to encourage Americans to make safety plans so they know what to do in natural disaster emergency situations. Maryland is susceptible to flooding, hurricanes, tornadoes and winter storms, so it's vital to be able to take control of your family's safety if and when one of these natural disasters occur.
Devise an Emergency Plan
If you haven't already, plan to sit down this week with those who live in your home and come up with a plan that everyone can follow. Ask these questions and come up solutions together:
How will my family/household get emergency alerts and warnings?
How will my family/household get to safe locations for potential emergencies?
How will my family/household get in touch if cell phone, internet, or landline doesn't work?
How will I let loved ones know I'm safe?
How will family/household get to a meeting place after the emergency?
Make a Supply Kit
If there's a chance that your family could get trapped in your home, you'll want to have enough supplies to last a few days. Babies or young children will need diapers, wipes, formula, and other age-appropriate snacks. Senior citizens will need daily medications. Everyone will need clean drinking water and non-perishable food items. For a list of emergency supply suggestions, see the list on ready.gov.
Learn About Safe and Unsafe Drinking Water
In a disaster, plumbing pipes can get cracked and drinking water can become contaminated. If you hear reports of broken water or sewage lines or if local officials advise you of a problem, you will all need to know how to turn off the water at the main valve. So before an emergency, locate the shut-off valve for the water line that enters your house – usually in the basement or other area of the home not far from the water heater – and label this valve with a tag for easy identification.
If an emergency strikes, drink water that you know is clean first, including water that comes from the following sources (list courtesy of ready.gov):
Melted ice cubes.
Liquids from canned fruit or vegetables.
Water drained from pipes. To use the water in your pipes, let air into the plumbing by turning on the faucet in your home at the highest level. A small amount of water will trickle out. Then obtain water from the lowest faucet in the home.
Water drained from the water heater. To use water in your hot-water tank, turn off the electricity or gas first then open the drain at the bottom of the tank. Start the water flowing by turning off the water intake valve at the tank and turning on the hot-water faucet. After you are notified that clean water has been restored, you will need to refill the tank before turning the gas or electricity back on. If the gas is turned off, a professional will need to turn it back on.
Make sure everyone knows NOT to drink water from these sources:
Radiators
Hot water boilers.
Water from the toilet bowl or flush tank.
Water beds. Fungicides added to the water or chemicals in the vinyl may make water unsafe to drink.
Swimming pools and spas. Chemicals used to kill germs are too concentrated for safe drinking but can be used for hygiene.
If you run out of water that is safe to drink, you can boil, chlorinate or distill the water. You can find instructions on how to do each of these methods at ready.gov.
Call Putman Plumbing if You Have Questions
Hopefully we won't run into any of these natural disasters in Maryland any time soon. But if you're still uneasy about how to deal with the main water valve or other water safety issues in potential emergencies, we'd be happy to give you a further explanation.
Take time with your family this month to discuss these important emergency preparation issues. It's always better to do it now, before it's too late.