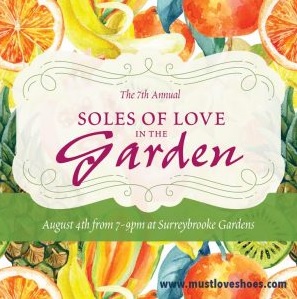 We are proud to sponsor Soles of Love in the Garden at the "Wedge" level. In the past 6 years, this charity event has donated over 1,700 shoes to Frederick County area students, and raised additional money to purchase winter boots for these children as well.
This year, Soles of Love in the Garden will be held at Surreybrooke in Middletown on August 4th from 7 pm to 9 pm. The garden party will be a  relaxing evening of friendship, conversation, music, and community. Each guest is asked to donate new children's shoes that will be given to children in need. This year's theme is "Fruits of Summer," and guests are invited to dress in the color of their favorite fruit to pay tribute to the "Fruits of the Spirit."
"But the fruit of the Spirit is love, joy, peace, forbearance, kindness, goodness, faithfulness, gentleness and self-control." (Galatians 5:22-23).
Soles of Love in the Garden was established in in 2011 after Julie Gaver recognized how many local families were in need of shoes for their children. Julie decided to start a charity in which friends could enjoy time in the garden with her (one of her favorite pastimes) while collecting shoes for these families in need.
Tickets for the event are $20 and can be purchased here.