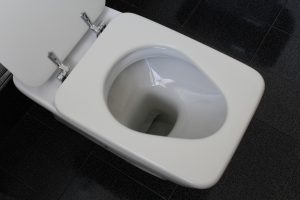 Whether your toilet is broken or you just want to take advantage of a more updated model, it's worth it to learn about a few different types available since they each have their own advantages. In a traditional toilet, a rubber flapper at the bottom of the tank opens up and lets gravity flush waste away, but newer toilets have different mechanisms.
Pressure Assisted Toilet
This type of toilet uses air pressure to produce a powerful flush, allowing them to stay clean longer and less likely to become clogged. Because of their power, they're much louder than regular toilets and are popular for use in commercial settings, although they are available for residential homes.
Dual Flush Toilet
Most of us have seen these in mall or restaurant bathrooms, where we're given the option to push the handle down for liquid waste or up for solid waste. The dual flush toilet has a pressure assisted mechanism that flushes solid waste and cleans the toilet, while the gravity feed flush gets rid of liquid.
Touchless Flushing
The touchless option is a dream if you're germaphobic since you can flush the toilet just by by waving your hand over a sensor. While you can buy a new toilet that has this feature, you may be able to modify your current toilet with a touchless flush system.
Water-Saving Toilets
Your old toilet could be using up to five gallons per flush. You can save a lot on your water bill by looking for a toilet with the WaterSense label, which uses only 1.28 gallons per flush or less.
Smart Toilets
If you want to go all out, you can find temperature-controlled seats, automatic flush, self-cleaning features, remote controls or even add a bidet. You certainly have plenty of options with today's toilet technology!
Call Putman Plumbing to Install Your New Toilet!
When you need a professional plumbing company in Middletown, we can help! We'll make recommendations for replacing your toilet and schedule an appointment to get it installed. We look forward to working with you!