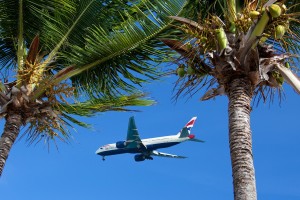 There's a lot to think about when you're taking your family on a vacation. But aside from packing everyone's clothes and stopping mail delivery, you should also think about what could happen with your plumbing while you're gone. You can save money and avoid a few hassles by taking a few simple steps.
Turn Down Your Water Heater
You can save money on your electric bill by turning your water heater down or off so you're not expending unnecessary energy. For a gas unit, turn it off or to "vacation" mode, and for electric, turn it off at the breaker or to the lowest setting.
And while you're at it, don't forget to turn your pool heater down or off to save even more money.
Prevent a Sewer Line Backup
Since we've been getting more rain this spring and summer, there's a possibility that your sewer lines could get backed up if they have any cracks in them. Tree root growth is also an issue since the roots are drawn to sewer lines. If you've noticed any slow moving drains or backed up toilets, have a plumber inspect your pipes before you leave. It could take just one strong storm to cause a major flood in your home.
Check Your Sump Pump
If your sump pump stops working when you're gone, you'll come home to a wet, stinky basement. Pour a bucket of water into the pump well to be sure that it turns on.
If you notice any problems that need to be fixed before you go, give us a call. We'll have your mind at ease in no time.