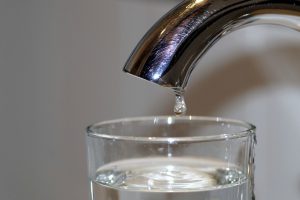 With all the uncertainties about Covid-19, you may be wondering if the virus can exist in your drinking water. While some homeowners have begun buying bottled water and boiling water, the EPA has announced that protecting the health and safety of Americans is its highest priority, and that "Americans can continue to use and drink water from their tap as usual" since COVID-19 virus has not been detected in drinking-water supplies. You can keep drinking water from your faucet and brushing your teeth just as safely as ever! 
How Our Plumbers Are Keeping You Safe
If you were concerned about your tap water, you're probably concerned about having workers in your home during the Coronavirus pandemic. We can assure you that our plumbers are taking every precaution to keep you safe while in your home, including:
Wearing personal protection equipment (PPE). You'll notice we wear masks and gloves whenever possible while working on your project, and we switch out that equipment between each home we visit.
Washing hands regularly. We promise that we're keeping our hands clean.
Disinfecting and sanitizing our tools. Any tools that enter a new job site have been cleaned and sprayed down to minimize the potential for cross-contamination.
Not shaking hands. It's been tough since we love a good handshake at hello and goodbye, but our customers' safety is most important. We'll give you a safe head-nod and a "Thank you" and be on our way!
Have Other Concerns About Your Water or Plumbing System? Just Call Putman Plumbing!
These are pretty crazy times, and we know you may have questions about how Covid-19 can affect your plumbing system (we've already told you not to flush anything but hard-to-find toilet paper down the drain!). We'll be happy to address any concerns you have, so just give us a call.