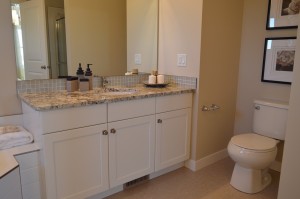 After watching shows on HGTV, you might think all it takes to install a basement bathroom is a weekend with the help of a few buddies. But there's a lot more to consider besides what kind of shower, toilet and sink you want to install. And a lot more work than you think.
Adding Underground Plumbing Requires Expert Help
Your basement may already have plumbing roughed in for a bathroom. If it does, you'll want to consult with a plumber about the right kinds of fixtures and ask for his help installing them. The last thing you need is a sink that leaks all over the place because it wasn't hooked up correctly.
But if you don't have plumbing hooked up and your current sewer line isn't deep enough, you may need to have a plumber install a pump or research other ways of removing wastewater from the basement bathroom. You'll also need drains, pipes, and much more that you may have no experience with.
Another thing to keep in mind is that in order to install below-grade plumbing, you are required to follow Frederick county building codes. A professional plumber knows what these codes are because they do this kind of work every day.
Ventilation for Showers
The easiest installation is a powder room, where you only have a sink and toilet. But if you want a shower for guests to use, it's a necessity to install a ventilation system.  Basements are already damp, so a vent will prevent mold from settling in and mildew from building up.
Putman Plumbing Has the Tools and Knowledge to Install Your Basement Bathroom Right
A new bathroom is an investment, but it will add value to your home if it's done the right way. There are so many little things to consider in order to get to that beautiful "big picture." Our plumbers are licensed, insured, and experienced and have been installing new bathrooms for many years. You can avoid water damage to your home and start enjoying your new bathroom sooner by leaving it to the experts. Give us a call. We'd be happy to help.