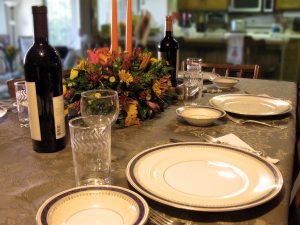 If you're hosting a big dinner for Thanksgiving, you probably already have a lot on your plate (see what we did there?). But besides grocery shopping and planning where out of town guests will sleep, you should also make sure no big problems will come up with a house full of people. If you notice any of these problems, have a licensed plumber in Middletown check them out well before your guests arrive.
Stopped Up Toilets
If you're already having to flush twice to get everything down your toilet, imagine how much flushing that will be all day long on Thanksgiving day – and it could possibly overflow. There's a reason why your toilet is stopped up. Flushable wipes could be balled up in your pipes (they aren't really that flushable, after all).  And if any parts in your tank are broken, there may not be enough water getting to the bowl to wash everything down. A Frederick County plumber can take a look and fix the problem to avoid a big mess.
Cold Showers
Is your water running cold after three people in your family take showers in the morning? Imagine how cold your guests will be when you add them to your household. There could be sediment buildup in the bottom of your hot water heater that's preventing your water from getting as hot as it should, and a plumber can drain that for you. Or if your hot water heater is around 10 years old, you may consider having a new hot water heater installed before guests arrive.
Clogged Drains
Lots of stuff will be going down your kitchen sink and garbage disposal on Thanksgiving (although you shouldn't pour fats, grease, or chunky foods into your drain, and no bones in your disposal). If you already notice that your kitchen sink is draining slowly, it could end up completely clogged during your big dinner. Liquids should flow straight through when you pour them down the drain, so if it's taking a few minutes for them to disappear, call a plumber now to clear the problem.
Dripping Faucets
Your water bill will certainly go up when you have extra showering, flushing, hand-washing, and cooking going on. If you already notice a leaky faucet anywhere in the house, it's worth it to call a plumber now to fix it so that doesn't add to the bill. A trained plumber can tell you if it's time to replace your faucet and have it fixed before your turkey is in the oven!
Putman Plumbing is happy to help you get prepared so you can enjoy your Thanksgiving and the rest of the holidays. Just give us a call!