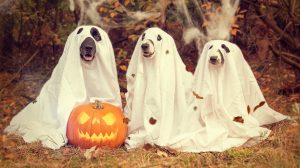 It's almost Halloween, and so far the forecast is calling for thunderstorms in Middletown and Frederick County. If you're looking for some indoor options to wear costumes or just have spooky fun, you may want to check out these events going on around town!
Maxwell's Kitchen No Tricks, All Treats!  57 E. Patrick St., Frederick MD
From 4 PM to 9 PM, come in for dinner and receive a free trick-or-treating bag or bucket and one free cookie!
Rockwell Brewery Halloween Party  
880 N. East St., Suite 201, Frederick MD
From 4 PM to 10 PM, Rockwell will host a Halloween party with a murder mystery at the Brewery. All ages are welcome and candy will be available for trick or treaters! No tickets or reservations needed!
The Haunted Museum of Civil War Medicine, Haunted History  48 East Patrick St., Frederick MD
From 7 PM to 9 PM, Tour the darkened galleries of the most haunted building in Frederick while listening to ghostly tales. Buy tickets online here.
Haunted Houses in Frederick County
If you're feeling brave, lots of haunted houses will be open on Halloween. Find one on this website and head there if you dare!
Hearing Scary Plumbing Sounds? Call Putman Plumbing!
Spooky screams, knocks and creaks are fun if you're in a haunted house, but not if you're hearing them when your water turns on or off. Any time you hear these sounds coming from your plumbing system, give us a call so we can see what the problem is before it causes a major issue..
Squealing 
Squealing pipes occur when water from a large pipe flows into a smaller pipe. Our plumber may need to  adjust the pressure valve, or it may require replacing a worn washer or valve.
Screaming
A screaming sound could mean you need a new washer or that the tap stem needs lubrication. These are fairly easy fixes for our plumbers, and much better than dealing with leaks down the road.
Banging
A loud banging sound when the water turns on or off is called water hammer in the plumbing world. It can happen when there's a sudden change in water pressure, which sends a surge of pressure into the tap or valve, and if the pipes are loose, they may bang into the walls. What's even more scary than the sound is that eventually, it can lead to broken pipes, damaged fittings, or damaged appliances. A trusted plumber may install a pressure-limiting valve at the main line, and sleeve the pipes to stop them from hitting the wall.
Enjoy Your Halloween! Call Us if You Have Scary Plumbing Problems!
Happy Halloween from all of us at Putman Plumbing. Remember that our brave plumbers are always here if you need us!