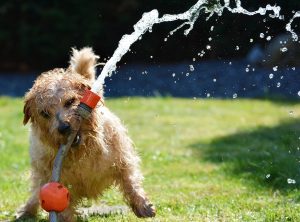 It's sad to say we're nearing the end of summer in Frederick County. Most of you are back from vacation, have had ample time at the pool, and are starting to purchase school supplies. If you neglected to pay attention to your plumbing system in the past couple of months while having fun, we don't blame you, but the truth is that more people at home along with heat and rain can put new strains on your plumbing. Consider these issues that could have come up this summer, and let us know if you need our help!
More Flushing and More Food
During the summer when kids are home and teachers are off work there's more chances of things being flushed that shouldn't. Flushable wipes can stop up your toilet and so can sanitary napkins, so if you notice that you have to flush twice, call us to clear your clog. There's also more than likely been more foods going down the garbage disposal that shouldn't, such as chicken bones, fruit rinds, and grease, so so if you notice strange noises coming from your garbage disposal, call us to fix it before it breaks down completely!
Rusted or Cracked Outdoor Plumbing Fixtures
Whether you've been using your hose for watering the lawn or for good old slip n' slide fun, your water use has definitely increased. But if you've noticed an extremely high water bill, there could be leaks that have developed from rust or cracks in your pipes. Check your fixtures to see if you haven't turned the faucet off, and then call us to check on the issue. You'll want to get any broken or weak fixtures repaired before winter.
Summer Planting Gone Wrong
When you were planting your delicious vegetables, you may have knicked a sewer line if you dug deep enough with your shovel. If you smell anything gross in your yard, call us to inspect it.
Enjoy the remainder of summer, and if you need any plumbing help, call Putman Plumbing in Frederick County!