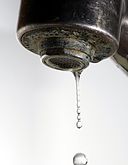 Do your clothes seem to fade quickly? Are your showers not as hot as you'd like for them to be? Are your clean dishes covered in a film? If so, you could be dealing with hard water.
Hard water contains a buildup of mineral content usually consisting of magnesium and calcium ions, along with other dissolved compounds. This high mineral count can lead to several problems.
Laundry Trouble. Because the minerals in hard water leave a residue on laundered clothing, it often makes clothes fade quickly and feel scratchy. It may also make linens feel rougher than they should.
Water Temperature Issues. Hot water heaters may not work as efficiently if you have hard water. The large amount of sediment can build up quickly inside water heaters, making it more difficult to heat the water and eventually increasing your energy bills. Other appliances used to heat water can become clogged with minerals as well.
Film Buildup. Since these pesky minerals in hard water don't rinse away in the dishwasher, you'll notice residue on clean plates, cups and utensils. You'll also notice a film not only on shower walls and doors, but also left in your hair and on your skin, which can be really irritating.
How Can I Get Rid of Hard Water?
Having a water softener installed in your home can eliminate the problems caused by hard water. Without getting too technical, what a water softener does is swap out excess calcium and magnesium ions with sodium ions. Sodium ions get along better with soap and allow the residue and buildup to dissolve much more easily, leaving you with softer laundry, cleaner dishes, healthier hair and skin, and lower energy bills.
We at Putman Plumbing would be happy to talk to you about installing a water softener in your home. Give us a call.
Ever experienced the embarrassment of having a dinner guest ask for a clean fork? It's probably happened to us all at some point. Here are a few things you can do to make sure your friends don't avoid eating meals at your house:
Scrape off food before loading dishes into the dishwasher. You don't have to wash them by hand – but chunks of food can clog the drain in your dishwasher, and might even spray out and get stuck on other dishes (like that fork your guests will be using). So it's best to at least rinse them first.
Don't layer dishes on top of or put them in too close to each other. Leave room for the soap and hot water to reach each piece. This may mean having to wash a few pieces by hand, but it's better than having to rerun an entire load.
Run hot water first. Before starting the cycle, turn on the faucet and run it until the water is hot to the touch. This means your first dishwasher fill cycle will be hot. Check that your water heater is between 120 and 125 for optimal clean dishes.
Run vinegar through your empty dishwasher. If you pour a cup of white vinegar into the bottom and run a normal cycle, it will clean out old food particles.
Have a plumber test your water. If you have hard water, your dishes will most likely not get clean. A knowledgeable plumber can offer softening systems that will solve that problem.
It's possible that, even after all of these measures, your dishes still won't get clean. Your dishwasher's drain could be clogged with food, pet hair, and soap residue. Call Putman Plumbing to take a look, and we'll have your dishes clean in no time.