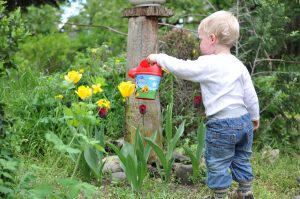 This time of year in Harford County brings fluctuating temperatures that can cause plumbing problems. Very warm days followed by a cold spell can wreak havoc on pipes, leading to big trouble if you ignore signs that something is wrong. We'll tell you about five common plumbing and drainage problems that can happen this time of year so you know what to look for.
Signs of Spring Plumbing Problems
If you notice these warning signs, call Putman Plumbing!
Low Water Pressure
When water pressure is low, it's often a sign that there's a leak somewhere which could be coming from a cracked pipe. If it happens once, it's probably no big deal, but if you notice it doesn't return to normal, you'll need a licensed Middletown plumber to take a look.
Standing Water
Leaky pipes will cause water to pool in the affected area. You may see small puddles under your outside faucet, a wet spot under your sink, or even a big puddle in the middle of the yard where an underground pipe has burst. It's important to get this fixed right away so your water bill doesn't go through the roof and to prevent more damage.
Slow Drainage
If you notice slow draining in all of your sinks, showers and tubs, it could be due to a tree root in the drain line. Water has a hard time getting past the root, so it won't be able to drain as quickly. When all of your drains are slow, it's important to have a plumber assess the situation in case a pipe needs to be repaired.
There could also be clogs in water pipes from holiday meals such as greasy foods clinging to the sides, but if this is the case you'll just notice one drain operating slowly. Your trusted Frederick County plumber can remove the clog using a power rodding machine with drain cable.
A Sump Pump That Doesn't Come On or Constantly Runs
When a sump pump discharge line is clogged with sticks, dirt, rocks and other debris, water can't properly exit. Check to see if this is the problem, and clear as much as you can see to determine if that's the problem. You may want to add a grated attachment that keeps debris from building up inside. If your sump pump still doesn't work after clearing the line, give us a call to prevent a flooded basement this spring.
Call Putman Plumbing for All Your Spring Plumbing Needs!
If you notice any of the above issues, contact us. We'll be happy to come out and take a look to make sure your plumbing works well for the rest of the season!