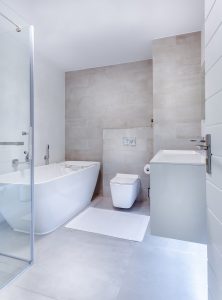 Can you believe we've actually arrived in the year 2020? We may not have flying cars yet, but there are lots of things we couldn't imagine would be possible even a decade ago. If you haven't made any updates to your bathroom in quite a while, consider sprucing it up to take advantage of modern design and eco-friendly plumbing offerings. Here are a few suggestions to update your bathroom in the New Year.
A Home Spa
Whether you go all out by installing a jacuzzi tub or simply want to add a new massaging showerhead, you'll be happy to end your stressful day in your home bathroom. Our licensed plumbers in Middletown can help you choose and install the perfect elements to help you relax and feel pampered.
Eco-Friendly Updates
If you have old and worn bathroom fixtures that drip and leak, consider investing in new low-flow faucets and toilets that not only look great but also save money each month. We can recommend all the best brands and models.
A Brand New Bathroom
Ready to do a total overhaul with sleek comfort-height vanities, marble countertops, a free-standing tub or waterfall shower? Talk to our Middletown plumbing company to find out how to add a little luxury in your bathroom. We work with Frederick County contractors to create beautiful modern bathrooms our customers never want to leave!
Let Putman Plumbing Help You Transform Your Bathroom in 2020!
Don't just keep thinking about stopping that drip or making those updates you've been talking about forever. Give us a call and get it done! We've been helping Frederick County residents add beauty and functionality to their kitchens and bathrooms for years. We would love to help you love your bathroom!
Happy New Year from the Putman team!