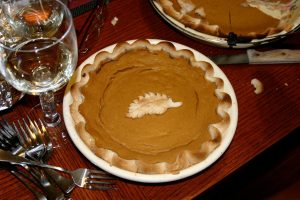 We have so much to be thankful for throughout the year, but especially as we approach Thanksgiving we want to let our customers know how grateful we are for your support! We hope you all have a wonderful time with your family this weekend, sharing laughter, great food, and lots of love.
With extra guests in your home this weekend, make sure to remind them of a few important ways to prevent having to call a plumber, including:
No grease or fat down the drain where it can harden and cause drain clogs.
No bones or other hard foods down the garden disposal that can break the blades.
Nothing in the toilet besides toilet paper. Even "flushable" wipes can cause toilet clogs in large quantities, so leave a trash can nearby so they can throw them away (and then you'll need to remember to empty the trash frequently!).
Beginning Your Holiday Shopping This Weekend? Support Small Businesses in Frederick County!
If you plan to shop this weekend, stop by a Middletown area coffee shop and visit other stores close to home. This Saturday is Small Business Saturday – a day to celebrate and support small businesses and all they do for their communities. Here are just a few reasons to shop local:
Money back into our community – Nearly $45 of every $100 spent at small, independent businesses stays in the local community.

The money you spend is reinvested into schools and other city and neighborhood needs.

More jobs – Locally owned businesses create jobs for residents of our community.
Environmental sustainability – Local stores and restaurants help to sustain vibrant, walkable town centers essential to reducing sprawl, automobile use, habitat loss, and air and water pollution. 
Unique choices – Most small businesses select their inventory based on their own interests and the needs of customers, meaning you'll find gift options you won't see in big box stores.
Customer service – Small businesses in Frederick County offer knowledgeable, personalized help in a less crowded environment than malls and larger retail stores. Chances are you'll appreciate a friendly face that wants to help you, vs. an employee that's stretched thin and too busy with other customers. 
As a small business serving Middletown and the surrounding areas, we're proud to support our local community businesses. Please give us a call if we can help you with your garbage disposal, clogs, drippy faucets or any other plumbing needs this holiday season.
Happy Thanksgiving from all of us at Putman Plumbing!