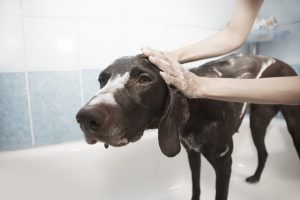 Is it taking forever to rinse the shampoo off of your dog in the bathtub? Do your dishes still feel a little soapy after the dishwasher is done? There may be a problem with your water pressure. This could be happening due to an issue with your plumbing system, so it's worth it to let your Frederick County know your concerns. Here are just a few possibilities:
Corroded Pipes
Steel or galvanized pipes may start to corrode which can block water from flowing through them as strongly as it should. This is a pretty big issue but we can definitely fix it. By taking out the old pipes and installing a clean, clear piping system, you'll be pleased with how much better your water pressure gets.
Leaks in the Plumbing System
When there's something such as a crack in a pipe that causes water to leak out before it gets to its destination, you'll have low water pressure. You may also notice high water bills since extra water is being used. We can easily test your meter and if we see a spike in water usage, we'll find the leak and fix it.
Hard Water
Minerals left behind by hard water will cling to your pipes and cause low water pressure. We can recommend a water softener to help solve this problem.
Frederick County Water Problems